Considering all the permutations and personal preferences of a million photographers it's a big ask to suggest what the Best Mirrorless Camera Bag is – I decided to take on the challenge.
I've broken the subject into 5 distinct categories (see the Table of Contents below) and present you with 2 bags from each category.
A couple of the bags fit comfortably into more than one category making them a versatile choice.
5 Categories – 10 Bags – you'll find something here I am sure.
Why 5 Categories To Find The Best Mirrorless Camera Bag?
We're all different and we all have different gear and different tastes. 
Our differences can be as basic as requiring a bag for:
A male or female
Hiking or travelling
Wanting a fashionable/practical bag
Backpack, sling bag or a messenger style
Preference for a non-leather product for my Vegan friends
A front or side opening bag
The list goes on but in the end I chose 5 categories that I think covers them all.
The idea behind creating categories is to help as many photographers as possible. 
The Criteria For a Top Quality Camera Bag
Here are the criteria I looked at for doing my research.
Waterproof or at least water resistant.
I live in New Zealand where it rains often and I know first hand how much damage moisture can cause to camera bodies and lenses. For me a waterproof or, at the very least, a water resistant bag is essential.
They're not any more expensive so why not invest in a bag that has this layer of protection?
Customisable Compartments.
With so many different body sizes, lenses of different lengths, flashes and accessories a bag with customisable compartments that can be adjusted to securely hold your gear is a must.
The more secure your lenses and body are within the bag the less likely they are to suffer and damage from any rough treatment or knocks from dropping your bag. I even pack a very dry towel on top of all my gear to make sure there is no possibility of  anything  being able to move around.
Overall Build Quality.
This includes a strong outer case, solid straps and connections, good quality zips, accessibility, security, weight and padding.
Aesthetics (looks).
Who want's an ugly bag?  Not me.
For me the traditional black camera bag is on the way out – they generally aren't pretty (although there are exceptions) and they scream "expensive gear" inviting the attention of the bad guys.
Fortunately there are a lot of really cool looking camera bags out there and my recommendations have given preference to these – provided always that they meet the other criteria.
Features.
These include things such as the number and purpose of decent storage compartments.  By decent I mean compartments that are useful in terms of what can be stored in them and reasonably easy to access.
External measurements are an important requirement for air travellers.  
Padded straps, breathable back, built-in rain cover, a tripod holder or pocket and any other feature that may suit a particular category.
Customer Reviews.
Last but not least I looked at customer reviews to see what real people in the real world have to say about a particular bag.
I find customer reviews very useful when I am buying gear and place a fairly heavy emphasis on these. Don't you find that when a friend recommends something based on his/her actual experience with it you are more likely to consider it?
Let's see what I came up with …
Zecti Waterproof Canvas Camera Backpack

The first of two backpacks for those that want a bit more storage space for extra lenses, flash equipment, clothes, snacks  etc.
There is so much to like about the Zecti Backpack.
With external measurements of 16.1″ x 7.5″ x 12.2″  (height by depth by width) it is a perfect size for a mirrorless camera body or two and several lenses and accessories.
Waterproof with a built-in rain cover.
Made from breathable canvas material the bag weighs in at 3.75 pounds.
It has two completely customisable sections – use both for photography gear or use one for your camera equipment and the other for clothes/food/other.
Several internal and external pockets for extras such as battery charger, memory cards, cleaning kit and more.
Internal and well protected sleeve for 13″ laptop.
The padded strap design means the bag can be swung around to the front with easy access to your camera.  I love this feature as removing the entire bag to get to my camera can mean the difference between even bothering or losing a photo altogether.  Small things like this make a difference to me.
Pocket zips and clasps are all of high quality and function perfectly.
Comes with a nifty tripod pocket that tucks away when not needed – but see comments on flimsy straps below.
A great bag for travelling and hiking with hordes of space.
And finally it is a great looking bag (in my opinion) for an extremely good price.
Also see my full review I did on this bag in a previous post.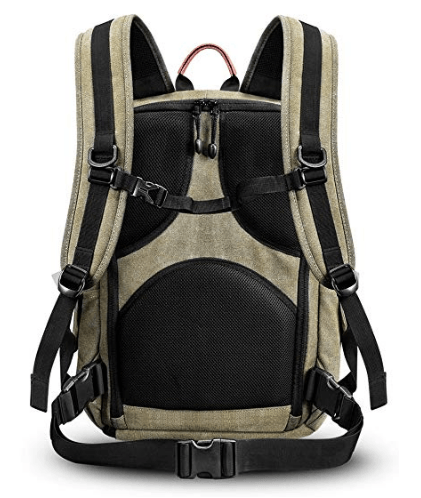 Highly recommended for:
Hikers/trampers/landscape photographers
Anyone who is rough on there equipment as this bag can take some serious punishment
Travellers and bloggers
Vegans – yes this bag qualifies for my Vegan category too as it has no animal products in it.
What's Not to Like: 
A very tight fit for a 13″ laptop – should be ok for anything smaller.  It is annoying when manufacturers claim 13″ when really a 12″ is more practical.
The tripod straps are a bit "iffy" – I rigged mine up with a home made alteration to secure it as I had to keep stopping to check.  Grrr …

Tarion M-02 Canvas Camera Backback

Another great backpack in the same mould as the Zecti above – only smaller with a few differences.
The external measurements are 16.5″ x 7.1″ x 11.4″  (height by depth by width) make it slightly smaller than the Zecti and it may even be a better fit for your mirrorless equipment. 
Is water resistant (not quite waterproof) and comes with a rain cover.  Should be fine for most photographers who don't get caught out in heavy downpours or don't go out in the rain.
The Tarion backpack is made with durable, water-repellent, stain-repellant and  easy-to-clean canvas and vinyl – note the marketing says leather but it is in fact vinyl. The inside liner is made out of 210D Polyester.
Straps and back cover are padded and breathable for everyday use and shock absorption.
It too has two totally seperate and customisable compartments that can be used for a number of items besides photography gear. Customise to your requirements with ease.
Two sizeable external pockets for extras and a couple of smaller inner pockets – battery charger, cleaning kit, memory cards, etc.
Good tripod straps hang below the backpack.
Comfortably fits a 15″ laptop.  Surprisingly it has less overall space than the Zecti but takes a bigger laptop quite comfortably.
An excellent bag for travelling and hiking.
Very popular with female photographers for it's size, weight, surprising capacity and stunning good looks.
And fantastic price!
Be sure to read the endless outstanding reviews over at Amazon by clicking on the yellow button below.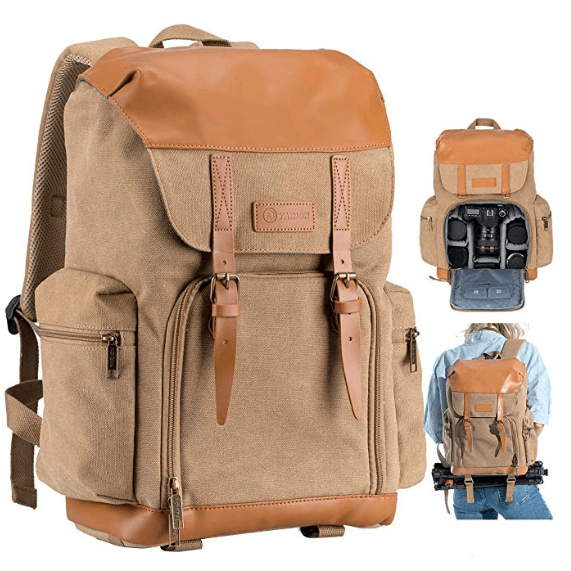 Highly Recommend For:
Vegans and people who care for the planet
Travellers really love this bag.
Hikers and backpackers
Everyday photography use
What's Not To Like:
Does not sling around the body so needs to be removed to access camera
Not 100% waterproof
Marketing material is misleading in that the straps and buckles are not leather – they are vinyl

Best Mirrorless Sling Bag
Moving into the smaller size sling-bags for everyday use.
Three colour options. Black, Deep Teal and Navy Blue. The black option is broken up with a patterned grey front cover making it stand-out more than the average black bag.
With measurements of 15.7″ x  9.06″ x 4.8″ it is the ideal size for everyday use and for storing your gear when not in use.
Lightweight at 1.4 pounds means that you're not even going to be aware of the bag's weight even on extended outings.
It has dual compartments – one for accessories and then the main compartment for your camera and lenses.
Convenience and comfort of a backpack but with the added bonus of being able to swing the bag around to the front for instant and safe access to your camera. My first bag was a sling bag and I still use it to this day for my day to day photography outings.
The Mosiso sling bag is unfortunately not 100% waterproof and the water repellant material does an OK  job in light downpours. I would recommend  additional waterproofing with something like Grangers Gear Protector.
The straps and back are well padded for comfort and durability.
There is a body strap for added comfort, security and stability.
It has fully customisable compartments and a tripod holder.
This is a small and compact bag that has been described as "cute" by a number of users.
Good value for money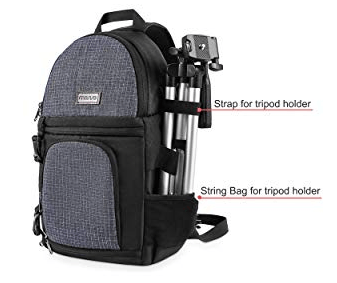 Highly Recommend For:
Hikers and trampers who want a dedicated bag for day to day use
Street photographers
Smaller bodied persons
What's not To Like:
Would benefit from waterproofing 
Tripod holder is a bit iffy and uncomfortable with anything but the smallest of tripods

LowePro Slingshot Edge 150AW

This is the updated version of my first ever bag and I am very impressed with the original model.  
The LowePro Slingshot Edge 150AW is slightly bigger than the Mosiso sling bag featured above.
Comes in any colour you want as long as it is black. This has not proved a hindrance for the thousands of happy customers – of which I am one.
Weighing in at 1.54 pounds with external measurements 9.57″ x 6.10″ x 15.28″ the LowePro 150AW is small but with lots of accommodation.
There is a larger option for bigger people (the LowePro 250AW) that is designed more for the bigger DSLR cameras but is perfectly adequate for mirrorless too. 
The zippered front pocket provides room for travel essentials such as a small tablet, your phone, sunglasses (why aren't you wearing them?), headphones, a windbreaker and other essentials.
A seperate pocket (they call it the CradleFit) keeps your small tablet secure and safe from impact.
A handy space on the back is dedicated to keeping your phone, cables, pen and other small essentials safe and secure whilst still being within easy reach and access.
Fully customisable main compartment for your camera and 3 or 4 lenses and an off-camera flash.
Excellent and fast side access to your camera and all lenses is exactly what you would expect from a sling bag and this is an exceptional example of a highly practical and functional sling bag.
The side access adds another level of security from theft while on the move.
While not 100% waterproof the bag does come with a rain protector. Once again I would recommend waterproofing it with something like Grangers Gear Protector.
The tripod holder allows for a small travel tripod and is so designed as to be very comfortable and tidy.  Your tripod is not going to be bouncing around, coming loose and generally irritating you.
Highly recommended for mirrorless camera users.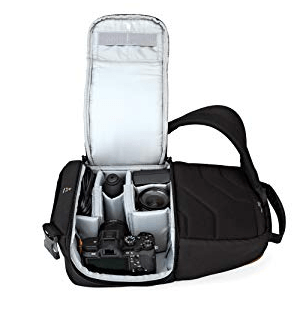 Highly Recommend For:
Everyday use and storage
Hikers, bloggers and street photographers
Small to medium built people – for anyone approaching the 6 foot mark and above consider the larger LowePro 250AW 
What's Not To Like:
Not 100% waterproof
Would be too small to use with a large prime zoom attached

Best Mirrorless Messenger Bag
Kattee Leather/Canvas Vintage Messenger Bag
Messenger bags are very popular due to their versatility and stylish non-camera look.
They're also very functional with easy access to your camera and lenses.
The first of my two selections is the Kattee messenger bag, although designed for a DSLR it is equally good for a mirrorless and provides a great amount of space.
Comes in 6 colour options: black, brown, army green, light green, blue and dark grey.
Outer dimensions are 13.8" x 12.6" x 4.35" and internally 11.8" x 8.25" x 4.2"
Weighs 1.5 pounds.
The exterior is made from high density canvas while the internal compartment is a made with a cotton liner.
It has a fully removable and customisable internal compartment for your equipment.
Being removable it can be used as a day to day bag for things other than photography.
There is an internal zippered pocket for smaller items (memory cards, cleaning cloths etc) and 4 external pouches for extras such as phone, charger, spare batteries and flash.
High quality quick release buckles and metal snap studs complete a strong exterior finish and stunning vintage look.
This is more than just a messenger bag.
Highly Recommend For:
Street Photographers
Bloggers
Family outings (such as beachside)
The photographer who wants a versatile bag that can be converted for other uses
Those who don't like a bag screaming "expensive camera gear!"
Those who like the retro classy look
What's Not To Like:
Not waterproof – recommend treating with Grangers Gear Protection
The advertised leather is not genuine.  As such can perish easily and especially when exposed to water

S-Zone Vintage Camera Messenger Bag
Comes in 5 colours: Black, grey, blue, khaki and army green
External measurements 14.2″ x 12.2″ x  4.7″
Weighs 2.6 pounds
Completely removable and customisable internal section
Will accommodate the largest full frame camera, a couple of lenses, a charger and a flash.  Plenty of room.
Water resistant material good for fairly heavy showers – for better waterproofing treat with an added protector such as Granger's Gear Protector.
Large capacity bag
Made from high quality canvas, cotton lining and leather straps.
Magnetic and zip closures for added security.
With insert removed it will accommodate a 14″ laptop 
Good looking bag
Highly Recommended For:
Vegans and people who care for the planet
Street Photographers
Bloggers
Family outings (such as beachside)
The photographer who wants a versatile bag that can be converted for other uses
Those who don't like a bag screaming "expensive camera gear!"
Those who like the retro classy look
What's Not To Like:
May be too big for someone with just basic gear – but don't kid yourself you will probably buy extra lenses at some point.
Reports of a weak zipper.

Best Feminine Camera Bags
Can a selection of top mirrorless camera bags be complete without making a distinction for the fairer sex? I think not.
Be sure to check out the last bag (under the Vegan category) – it will blow you away. 
I've also done a seperate post entitled "cute camera bags for women" which you will find interesting.
But first here are two for you to consider.
Koolertron Vintage Fashionable Leather bag
An aesthetically pleasing, yet unobtrusive, camera bag in the messenger style.
Made out of water resistant PU leather, a false leather made up of split leather and polyurethane.
Comes in antique brown or black
Outer measurements are 11.41″ x 5.11″ x  8.26″
The fully removable internal insert is 10.62″ x 4.72″ x 7.08″
Lightweight at 1 pound.
The bag closes with two magnetic snap locks.
The entire liner can be removed with camera gear in it for storage while you use the bag as a normal handbag/purse.
 Designed with larger DSLRs in mind it has plenty of room for a mirrorless camera and extras lenses – there are two customisable internal dividers to create up to 3 storage areas.
The bag has two front pockets for smaller items – such as a phone, wallet, or small camera accessories.
The back of the bag has a long thin/flat pouch for a small iPad or tablet.
A good length strap  giving the option of using it either as a shoulder or a sling bag.
Well priced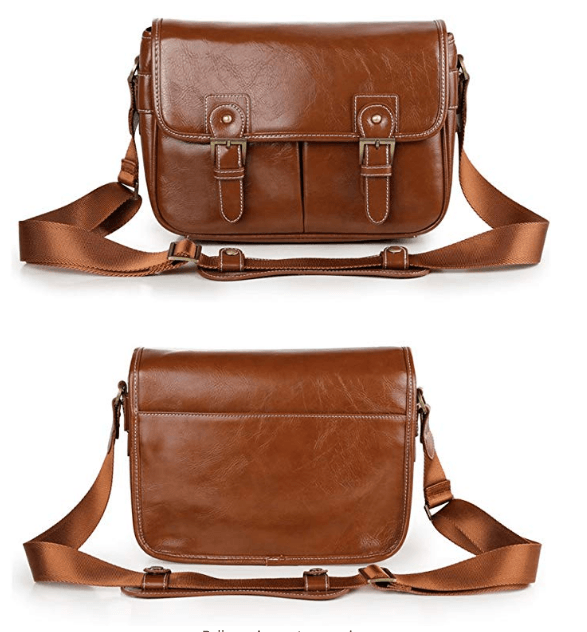 Highly Recommended For:
Street Photographers
Bloggers
Travelling when you want an unobtrusive camera bag
Multi-purpose use
What's Not To Like:
No internal zippered pocket to keep small accessories (such as memory cards) safe and secure
Strap is not padded
Not as hard wearing as genuine leather (but then neither is the price)

Funky and fun with 9 colour/pattern options available: black, camo green, camo woods, floral, galaxy, geometric, polka dot (my favourite), southwest and striped.
Can be paired with a matching camera strap and neoprene camera protection sleeve for added protection.
Strong reinforced external structure – will not crush easily and holds up exceptionally well for day to day use.
Soft padded interior with a single divider to protect your expensive equipment.
Can be carried any one of three ways – by the handle, attached to your belt or using the padded shoulder strap.
Top loading for quick access.
It has two large external netted compartments and one large internal accessory pocket.
Water resistant neoprene exterior with metal hardware and a rugged waterproof base.
Comes with a rain cover.
The reviews on Amazon are almost all very good – that says a lot for this camera bag!
Highly Recommended For:
The funky photographer who wants a fresh and fun looking bag with matching accessories
For the photographer with a mirrorless camera and 1 or 2 lenses 
The travelling photographer
What's Not To Like:
Not 100% waterproof
Limited space with only one divider 
Very iffy belt loop connection

NOTE: The two backpacks featured top, above, the Zecti and the the Tarion M-02, are also Vegan. Be sure to include them when looking.
The following 2 bags are smaller and of a different style – ie not backpacks.
CADeN Lightweight Vintage Canvas Messenger Bag

Size and weight:  14.9″ x 9.1″ x 7.1″ / 1.87 lb (0.85kg).
Made from waterproof eco-friendly canvas with metal buckles, cotton webbing straps and alloy zippers.
Load capacity is 10 kilograms.
The fully customisable internal inner "tank" can be removed to make this a multi-use bag.
The foam used for the divider is 12mm high density foam that is soft yet firm.  For me there is nothing worse than dividers that lose there shape!
The strap is a generous 2 inch wide one that could do with some added padding
In addition the actual external dimensions can be altered by selecting one of three adjustment holes on the bucket strap. This is the only bag I have seen with this feature.
It has generous storage pockets.  The zippered front pocket will accommodate an iPad while the two side pockets are ideal for water bottles and other accessories.  Inside you will find a smaller and very useful zippered pocket for memory cards, your phone and so on.
Underneath the bag you will find straps to secure a tripod or hiking pole.
Comes standard with a 1 year warranty from the manufacturer and Amazon's exceptional return warranty. You can feel secure in your purchase of this bag.
A very fashionable looking camera bag that folds up to almost nothing when not in use – great for storing.
Great after sales service from the manufacturer.
Top marks for price and features.
All in all a very good looking and functional camera bag that any Vegan would be happy to own.
This would make a great gift.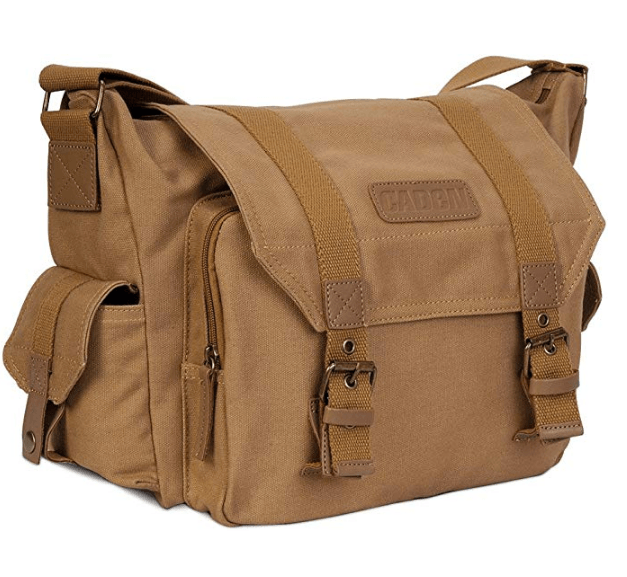 Highly Recommended For:
Vegans and people who care for the planet
Lots of unusual extras not found in other bags
The adjustable capacity
Classy looking without screaming "Expensive Camera Gear!"
Ladies – take note this bag has been described by more than one user as being cute.  Definitely take a look at it if you want something a bit different.
What's Not To Like:
Strap could do with added padding for those extended outings (I have to say something bad about the bag and this is about the worst thing I could find!)

Jo Totes Gracie Camera Bag

And to end off our selection another one for the ladies – this is a beauty!
Outer measurements 13.25″ x 13″ x 4.75″ .
Weight is 2.6 pounds (1.2 kilos).
Made from beautiful faux leather.
Gorgeous and beautifully made.
Insert has 6 fully customisable sections – perfect for a mirrorless camera (or DSLR) with lots of space for extra lenses and a flash.
Lots of storage pockets. 
Externally in the front there is one large zippered pocket and two magnetic closure pockets. In the rear there is a large pocket that includes a zippered pocket and one more easy access pocket.
Internally there is a zippered pocket on either side of the main storage – one for an iPad or similar and the other for whatever you choose – extra memory cards etc.
Fabulous for travelling when you don't want an obviously camera looking bag.
A really great bag at this unbelievable price.
Works wonderfully as a tote bag too!
This is a bag every lady Vegan is going to love owning.
Another great gift idea!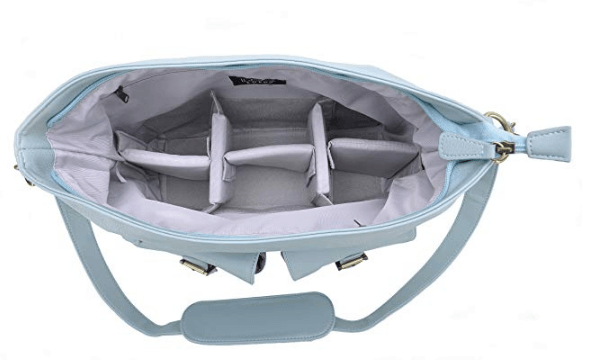 Highly Recommended For:
Vegan ladies
For those who love compliments.  Seriously your colleagues can't help but be impressed with this bag
Great bag for street photographers, travel photographers and bloggers
Anyone looking for a gift for the Vegan lady photographer in their life – you'll definitely score points with this bag!  (You can thank me in the comments below).
What's Not To Like:
Adjusting the inner sections is finicky – but it's a once off and therefore not a deal breaker.

Storing Your Mirrorless Camera
All digital equipment is sensitive and prone to damage when exposed to water in any form – that includes humidity.
Always wipe all your gear down after each use – prior to putting it away until the next time.
Store all your gear in an area that is dry and has a constant temperature – the best option is a camera dry cabinet/dehumidifier.
Not only will your gear be well protected but it will be in one place in a decent looking cabinet.  
I find one of the big plses of doing this is that when I go oout for a specific shoot I take only those items I will need for that particular day's session.  The rest of the gear stays safely dry in the dry cabinet.
Before I had a dry cabinet I had my gear sitting around on my desk, my bedside cabinet and in my bag.  Half the time I would go out only to discovr I had left a crucial piece of equipment back home.  This is very frustrating but since I started using a dry-cabinet I have not once left anythig behind and my bag is always lighter than it used to be as I only take what I need.
Final Word on Finding The Best Mirrorless Camera Bag For You
Well that's a wrap and 10 bags for you, my readers, to choose from.
I hope this list of bags has been of help to you and would love to hear your thoughts in the comments below.
Is there a bag or backpack that you particularly like or one that you think should be excluded from this list?
What other bag do you think would qualify for this list and why?
I'd love to hear your thoughts and look forward to receiving your comments and feedback.
Share this post and site on social media