Snorkeling and being amongst sea life in their natural environment is an awful lot of fun and extremely rewarding – if you're going to take photographs while enjoying it you will want the best underwater camera for snorkeling that you can afford. 
Taking photos and videos to share your experience and passion with friends and family makes sense right? Beats those common zoo photos hands down in my opinion.
So what camera do you need? 
Finding a camera to use for snorkeling is a whole lot different to finding a camera for scuba-diving. For the latter you need a high end (read expensive) DSLR r mirrorless camera with a waterproof housing. 
Snorkeling depths are determined by how long you can hold your breath before needing to come up for more air, divers take their air with them and can go much deeper.
So let's first look at what you need to look for in an underwater camera specifically for snorkeling and then we'll move on to the best camera for the job.
You'll find some of the cameras featured here also feature in my best point and shoot camera review – if it is versatility you want be sure to read that post too.
What to Look For in Your Snorkeling Camera
We are all different and have different needs so you need to ask yourself a few questions:
How often do you snorkel?
If you aren't sure or are going on a one time only snorkel then hiring may be a more cost effective option.  
How deep will you go?
Underwater cameras suitable for snorkelling are generally rated to a maximum depth of 10 meters.
How good do you want your photos and video quality to be?
Will you settle for straight out of camera Jpegs or would RAW photos that you can process be more your thing? Megapixels count.
How strong does the built in flash need to be? Although snorkeling photography occurs in shallow waters where sunlight still penetrates a built-in flash is a must. Your requirements will depend on the time of day you snorkel, the weather you snorkel in and the water conditions.
What is Your Budget? 
Yes this plays a part despite what others say about your money.
Budget and basics settled – do you want any extra bells and whistles?
Things like built in GPS, WiFi or BlueTooth transferability etc.
Goat Island Marine Reserve is a short drive from where I live.
It's a snorkeler's paradise and one of many such reserves to be found around New Zealand's extensive and interesting coast line – come and visit us
The Best Underwater Camera For Snorkeling - 5 top picks
Please note these cameras are not suitable for diving to depths below their underwater rated depth and, although waterproof to these depths, care still needs to be taken before and after submersing them.
Before submersing ensure all opening flaps (battery, memory card etc) are securely closed.
After use and before opening thoroughly dry the outside of the camera before opening any compartments.
See "caring for your snorkeling camera" further down.
Technical Specifications
Customer rating: 4.3/5 (86%)
Megapixels: 12 MP
Sensor: High Speed BSI CMOS with improved low light performance
Processor: TruePic VIII image processor
Maximum Burst Speed: 20 Frames per second (fps)
Waterproof Rated Depth: 15 Meters (50 feet)
Minimum Operating temperature: 14°F (-10°C)
Zoom factor: 2x Digital, 4x Optical zoom
Lens Specs: High speed anti-fog lens f2.0 – 4.9
ISO Range: Auto 100 – 1600 expandable to 100 – 12,800
Video Capabilities: Ultra HD, 4K at 30fps
Memory:  SD / SDHC / SDXC (recommend at least 64GB for both video and photos)
Supports RAW Format: Yes
Other Features:
Dust proof, crushproof to 220lbs/f (100KG/f), shock proof from a height of 7 feet (2.1meters), Wifi, GPS, Manometer, Compass and temperature sensors.
Best for:
#1 Choice for all enthusiast and serious snorkelers who dive up to 15 meters in depth


Pros
Comes in black or

red

Can be used for taking photos at depths of up to 45 meters when coupled with the Olympus PT-059 underwater housing 
5 underwater shooting modes – macro, wide, snapshot, microscope and HDR
3 Underwater white balance modes specifically designed for underwater photography
12MP high speed sensor ensure tack-sharp photos every time
Exceptional detail in the 4K UHD video with true colours
Outstanding macro photo capabilities – ideal for coral reefs and smaller subjects, the microscope option allows for shooting as close as 1cm
Shoot up to an incredible 20fps
Ideal for low light conditions
Cons
Default settings don't produce the best results.  For best results shoot in RAW and one of the manual modes
Does not come with a lens cover – who knows why Olympus decided this was a good idea
Technical Specifications
Customer rating: 4.2/5 (84%)
Megapixels: 16MP
Sensor: BSI CMOS Low Light Sensor
Processor: Expeed C2
Maximum Burst Speed: 7.5 fps
Waterproof Rated Depth: 30 meters (100 feet)
Minimum Operating temperature: -10°C (14° F)
Zoom factor: 5 X Optical with Hybrid Vibration Reduction
Lens Specs: f2.8 – 4.9
ISO Range: 125 – 6400
Video Capabilities: 4K Full HD
Memory: SD / SDHC / SDXC Recommend using 64GB of class 6 or higher
Supports RAW Format: No
Other Features:
Built in WiFI, bluetooth, built-in GPS, eCompass, depth gauge and altimeter.
Dust proof and shock proof to 2.4 meters (8 feet)
Best for: All snorkelers and in particular those who dive to deeper depths  
Pros
Designed and built for action
Simple and fast access to buttons
Uncluttered controls on body
Excellent Macro capabilities up to 1cm
Snapbridge technology for fast transferring of files
Timelapse recording
A great all rounder if you are happy to shoot jpegs (the plus side of that is that there is no processing involved)
Cons
Why oh why no option to shoot RAW?
Technical Specifications
Customer rating: 4.1/5 (82%)
Megapixels: 16 MP
Sensor: BSI CMOS
Processor: CMOS Shift optical image stabilisation
Maximum Burst Speed: 10 fps
Waterproof Rated Depth: 25 meters (80 feet)
Minimum Operating temperature: -10 ° C (14° F)
Zoom factor: 5 x optical zoom
Lens Specs: 5mm  – 25mm (28 mm – 140 mm equivalent on 35mm) f3.9 – 4.9
ISO Range: 100 – 6400 (can be extended to 12,800)
Video Capabilities: 4k, Full HD @ 15p
Memory: SD / SDHC / SDXC plus internal memory of approximately 90GB
Supports RAW Format: No
Other Features:
Shockproof to 1.75 Meters (5.8 feet), dust-proof, time-lapse, bluetooth and limited WiFi transferability.
Best for:
Family holidays where everyone can get to use this very easily drivable and extremely rugged little camera.
Those on a low budget
One-off snorkeling holiday
Pros
Comes in 5 colours
Excellent value for money
Simple to use
Very rugged
Cons
No Raw option 
Full HD video at a limiting 15P
Technical Specifications
Customer rating: 3.9/5 (78%)
Megapixels: 16 MP
Sensor: BSI CMOS
Processor: Digital image stabilisation
Maximum Burst Speed: 1.08 frames per sec for 69 frames
Waterproof Rated Depth: 45.9 feet (14 meters)
Minimum Operating temperature: -10° c 
Zoom factor: 5 x Optical zoom
Lens Specs: 5 – 25mm f3.5 – 5.5 (28 – 140mm 35mm equivalent)
ISO Range: 125 – 6400
Video Capabilities: Full HD 1080p
Memory: SD/SDHC/SDXC cards plus 68 GB internal memory
Supports RAW Format: No
Other Features:
Built-in macro ring lights
25 scene modes including underwater and underwater movie mode
Shock-proof up to 1.6 m (5.2 ft) and crush-proof up to 100kgf
Dust-proof
Time lapse capable 
Best For:
Those on a low budget
Family outings where the whole family can easily use it
Great for Kids
Pocket point and shoot for every day use and great for hiking
Pros
Useful built-in ring lights
A neat reliable point and shoot camera 
Simple controls – easy to handle
Solidly built to withstand even the roughest handling
Great Value for money
Cons
No Wireless, Bluetooth or GPS
Does not support RAW format – restricted to Jpegs (plus side is it saves on post processing)
Technical Specifications
Customer rating: 4.5/5 (90%)
Megapixels: 13 MP
Sensor: CMOS
Processor: Built-in electronic vibration reduction
Maximum Burst Speed: Zero
Waterproof Rated Depth: 10 meters (33 feet)
Minimum Operating temperature: -10C (14°F)
Zoom factor: 3 x Optical Zoom
Lens Specs: 4.1 – 12.33mm (30 – 90mm 35mm equivalent)
ISO Range: 125 – 1600
Video Capabilities: Full HD 1080p30
Memory: Single slot for  SD/SDHC/SDXC cards
Supports RAW Format: No
Other Features:
SnapBridge technology with built-in WiFi and Bluetooth
Built in 2 stop neutral density filter for ultra bright conditions
Shock-proof to 1.9 meters (5'9″), Dust-proof
18 Scene modes to choose from
Best For:
Casual holiday snorkeler with family that can all use the camera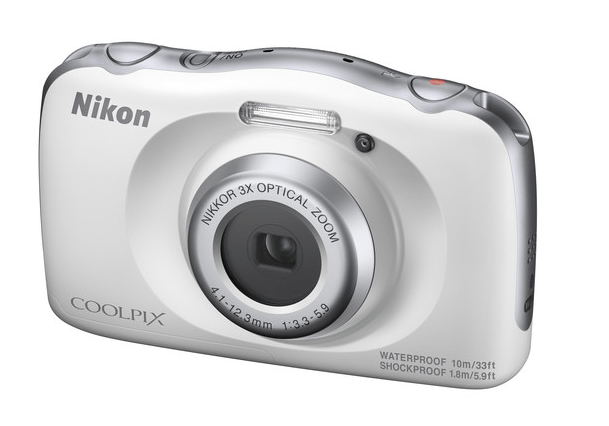 Pros
The built in ND filter is a useful feature for very bright scenes
dedicated underwater features such as face framing  and underwater clarity adjustments
In camera editing
29 Minutes of recording
Durable and well built
Cons
Does not support RAW format shooting
No time lapse recording
Two Inexpensive Models Worth Considering
Want something inexpensive but reliable and trustworthy for that snorkeling trip?
Try one of these two popular models.
Digital Waterproof Camera
Under $80.00 – learn more about it.
AKASO DVD Camcorder
Around $60.00 – learn more about it.
Caring For Your Snorkeling Camera
Perhaps more than any othr camera special attention to drying and storing your camera after each use.
Just because the camera is watersealed does not mean you should not give it a complete and thorough wipe down after each use.
I would suggest the following for getting the most out of your camera for many years to come.
After each use give it a thorough rinse in fresh water to get rid of any salts.  I'm very weary of salt water which is extremely corrosive and for me and my photography gear "rather safe than sorry" is my motto.
Give it a thorough going over with a clean dry cloth (changing cloths if you need to) until it is completely dry.
Give it a blow dry with a hair dryer. Set the dryer to normal and not hot or warm. 
Store in a cool dry area that has constant temperature and, if possible, constant  humidity – a camera dry cabinet is ideal.
To summarise get the salt water off the camera and thoroughly dry before storing in a cool dry area.
Final Word on Selecting a Camera for Snorkeling
Snorkeling is one of those unusual sports that require no special skill set – only that you can swim.
With a pair of googles and flippers you can explore the fascinating underworld life that abounds close to shore.  If you live on the coast you will appreciate the freedom snorkeling gives you.
It's a great pasttime that the whole family can join in on. It's a great way to educate yourself and your children on the abundant sea life that our oceans have to offer.
And like all family gatherings this is an excellent time to record special moments.
As can be seen from the list of underwater cameras ideal for snorkeling listed here the cameras are incredibly inexpensive and yet produce great quality images. Images that are memories of special family or personal time.
And what's more all the cameras listed here can be used out of the water making them a sound investment. 
My pick of the bunch would be the Olympus Tough TG-6.
Let me know in the comments below what your thoughts are and which of the cameras you would choose.
Share this post and site on social media