In this post I will help you find the best point and shoot camera currently available for your specific needs and I will also guide you in what to look for in your new camera.
Photography plays a big part in our lives these days, particularly with social media.
SmartPhones have come a long way and for many people they are the ideal compliment to their lifestyle. Small and simple and conveniently carried with you 24/7 but they are somewhat expensive, limited in features and often not suited to taking into less than optimal situations.
Then of course there are the bigger and more sophisticated cameras like a DSLR or Mirrorless cameras with interchangeable lenses.  Too big and cumbersome for most everyday use.
In between there are point and shoot cameras, covered in this post, and bridge cameras (which I will leave for another day).
The advantage of "point and shoot" cameras are that they are small and really simple to use – you literally point and shoot!
The question is who would best enjoy a point and shoot over the other options available?
Do you you want something cheap, a camera with a longer zoom, maybe something rugged, a camera with an excellent video or just something reliable – you'll find it here.
I remember when I first got into digital photography my primary need was for more zoom but that would not have been the case if I was, say, into street photography or videography.
What is it that you want to do with your camera?
Features to Look For in a Point and Shoot Camera
How does one determine which is the best point and shoot camera?
I believe considering the following features will go a long way in deciding what camera will best suit you:
Ease of use – generally speaking the less features a camera has the easier it is to use. These cameras are also generally cheaper.
The zoom factor – this varies from about 3 times to as much as 30 times optical zoom.
Light Sensitivity – the ability to produce good photos in low light is a great advantage when taking early morning (bluehour conditions) or late afternoon (golden hour situations) and is determined by the quality of the sensor coupled with the lens.
Megapixels – the more megapixels, dots per inch on the sensor, the greater the detail. This is particualarly important if you intend printing.
The built-in lens – a lens with wide aperture capabilities will allow more light into the body (increasing light sensitivity mentioned earlier).
LCD screen – size and tilting or fixed? A tilting screen is awesome for more clandestine shots (think street photography) and possibly selfies – is either important to you?
Video quality – obviously important if you intend creating videos for YouYube and blogging for example.
Build Quality – Do you want something able to withstand some tough knocks and possibly even a bit of moisture?  Weather sealing or a waterproof (or submersible) camera will be what you are after.
Burst Speed – How many frames per second (fps) with a single shutter depression.  If you're doing wildlife or sport this is an important consideration
Battery type and battery life – disposable or rechargeable?
Image quality – does it shoot in RAW? Do you need Raw or is an in camera Jpeg sufficient?
Built-in Flash – could be useful or could be essential to your needs.
Four Categories to Choose From ...
We're all different and we all have different needs and budgets.
The cameras listed here are divided into 4 categories as follows:
Top of the range
Proven Favourites
Popular and Inexpensive
Something for Little Humans
Undoubtedly the World's Best Compact Point and Shoot and unashamedly pricey …
Coming in at a price of just under $5,000.00 the Leica Q2 is not for everyone's budget, or is it? Read on …
Described by many as the ultimate travel camera, the Leica Q2 brings a whole lot more to the party – precisely what one has come to expect from the famous German brand.
And precision is what you get!
A 47.3 megapixel full-frame camera with it's fixed Summilux 28mm f/1.7 ASPH lens gives you the best fast, highest quality images available in a portable camera. Exactly what travel and street photographers have always loved about, and come to accept as standard from Leica.
Although it has a fixed 28mm lens the camera offers crop options of 35mm, 50mm and the new 75mm at 30mp, 15mp and 7mp respectively.
The lens also comes with a macro option that has a fixed aperure of f2.8.
One seriously big advantage to a full frame fixed lens camera is that you will never get into the "lens buying frenzy" all of us photographers seem to do every once in a while.  
With the Summilux 28mm Leica lens and it's built-in cropping options you have everything you need in one lens – this is a big dollar saving over time, trust me!
Talking of which if you look at individual Leica lenses you'll soon come to realise that at the Q2's price range, considered by many to be too expensive, you are in fact getting a bargain.
German engineering at its best the new Q2 offers the same streamlined look as it's predecessors but now includes superb weather sealing (IP52 certified) and the BP-SCL4 battery pack which adds 30% to the already very good battery life.
Refinements to control and handling include: 
A single-stage On/Off switch and a fast and intuitive three-button interface for ease of operation – simple and extremely efficient in true Leica tradition. I am a big fan of simplicity and love the Leica's layout and easy to use functionality.  Coupled with this there is very little chance of my fat fingers making accidental adjustments.
A new thumb rest and pattterned/ridged leather trim make it easier and more comfortable to hold while enhancing the already superb aesthetics.
The push button diopter compensation dial locks to avoid accidental changing during operation – although to be honest even I haven't ever accidentally changed the diopter on any camera I have ever used.
The improved electronic viewfinder with 3.68MP provides a clearer view then previous models while also allowing for faster auto-switching between the OLED viewfinder and the LCD screen. I use the viewfinder for 99% of my photos – the 1% where I use the LCD screen is for landscape photos taken with a tripod. For videos (I don't do many) I will however use the LCD as I feel it gives me more control of what is in frame and I can easily make any adjustments.
The Maestro II  image processor has reslted in a faster auto-focus and a very good burst speed of 10fps or 20fps with the electronic shutter.
Bluetooth and WiFi connectivity means that you can transfer images instantly to and from any corner of the world (provided of course you have a signal) – this is one of the many features that make the Leica Q2 such a perfect travel camera
And then there's the video …
Into this tiny little body Leica engineers have fitted an Ultra High Definition (UHD) with standard Digital Cinema Initiatives (DCI) 4K video filming at 24 fps.
Highly Recommended for:
Street and travel photographers
Portrait photographers – especially environmental portraits.
Bloggers and Vloggers (I love the word "vloggers")
Casual photography – for those who want to buy one camera and know that it will serve their purposes very well for life
Photographers who aren't interested in lugging a ton of gear and extra lenses around
The discerning photographer who "gets" Leica, has pride of ownership and is happy to pay the price for the Rolls Royce of cameras.
Not Recommended for
Not so good for sports and fast action as the auto focus tends to flutter and with a 28mm lens close-ups are hard to obtain.
Low-light conditions. At high ISO (from 12500 upwards) noise is quite dominant.
No USB Port means no USB charging – no USB anything!
Coming in at just under US$1500.00 is the second of the Top of The Range point and shoot cameras – the FujiFilm X100V.
I have always been a big FujiFilm fan – there's just something about the simplicity of the cameras and the resolution and colours of the images that has huge appeal to me.
FujiFilm on the other hand are clearly big fans of Leica as the 100 series is so similar in look and build to the Leica models. 
Imitation is the sincerest form of flattery they say …
The FujiFilm 100 series has long been acknowledged as the travel and street photographers go to choice of camera. 
The combination of the ideal travel-friendly size, the fixed (and brand new) 23mm f/2 lens, the large sensor and the hybrid viewfinder all combine to make it one of the most popular cameras around.
Add to that simple funtionality, superb ergonomics, great after-sales service and a very reasonable price and one starts to understand just why the FujiFilm 100 series has proved so popular.
This is the 5th upgrade of the FujiFilm 100 series in 9 years.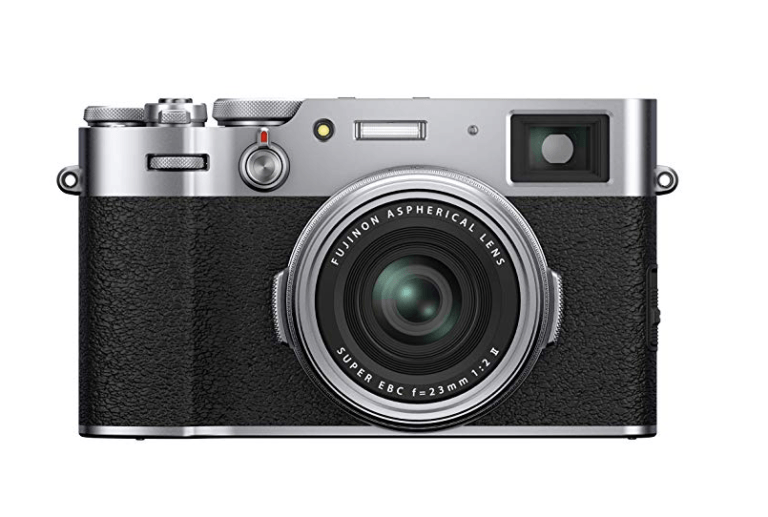 Unfortunately the X100V weather sealing is limited in that the lens is not weather sealed but there is an optional weather resistant kit available for about US$130.00. 
What's New in the FujiFilm X100V?
Available in silver or black.
This latest upgrade includes a tilting touchscreen making it easier to see in harsh lighting conditions and giving an extra clandestine option for street photography and for shooting from low or high angles. It folds snugly and seamlessly into the camera body when not in tilt mode.
The joystick found on the predecessor remains but the useful D-pad is gone making it a necessity to swipe through to menus on the touch screen.  Not so cool if you don't have a good set of gloves like the Heat 3 Smart gloves and in any event not something that you can do while accessing the viewfinder. This was possible with the D-pad that has been removed.
The shutter speed and ISO dial are incoorporated into one which is a good move making the ISO selection much easier than it was with previous models.
The X100V combines a 26.1 MP sensor with the lates X-Processor 4 technology which should result in an overall improvement in image quality, good high ISO performance and improved auto-focusing – especially in low light conditions.
The electronic viewfinder is a clever piece of engineering that allows you to toggle between the old optical view format and the latest electronic viewfinder technology. Quickle and easily interchangeable through a switch on the front of the camera.
At 11 fps burst speed with the mechanical shutter (20 fps with the electronic shutter) the camera is pretty credible.  The downside to this is the limitied buffer of just ynder 40 Jpegs and 17 RAW files. Still not bad though – we as photographers tend to forget how spoiled we are.
The video is a very acceptable 4k video at 30 fps or 120fps at 1080 p for slow motion action.
There is a USB port that allows you to keep the battery powered up via an external source
For the rest the camera is still aesthetically pleasing with simple and minimal controls and menus.
It remains a great camera in the FujiFilm tradition.
It's worth noting that the camera is quite bulky and won't fit into the average pocket – but then who carries their camera in their pocket?
Recommended for:
Everyday photography and especially travel and street photography
Good for landscapes, portraits and environmental portraits
Bloggers
Photographers not interested in accumulating a range of specialist lenses.  Simple is so often the best and easiest don't you think?
Not Recommended for:
Sports and wildlife photography – unless you can get up close with the short 23mm focal length lens
Photographing or filming in inclement weather without the weather-resistant add-on
The third camera in our Top of the Range point and shoot models is the Sony RX 100 VII coming in at a price range of just under US$1300.00.
I do want to start off by saying that I am a big Sony fan – especially of theiir top-end mirrorless models.
With that in mind …
When I first picked up the Sony RX 100 VII my initial thought was "It is so tiny and feels so flimsy".  Not a good start to what many consider the most capable pocket camera on the market.
Trouble is I couldn't shake that thought and it persists with me today.  But that may only be me.
The camera certainly has an amazing auto-focus and auto-tracking system that probaby is the best on the market for this type of camera.
The f/2.8 – 4.5 24-200 mm lens is a great zoom range and also possibly up there in zoom category.  However it does have a shortfall for close-up and macro photography.
The images are great and the video is very good but I just don't like the fact that everything has to "pop-up"; the elecctronic viewfinder has to pop up, the flash has to pop up, the lens retracts and expands.  
For video you need to add on attachments – the good thing is that you can add the attachments for the extras that you need.
With a 20 megapixel 1″ sensor the camera is competing in the same market as the iPhones and you really havve to convince yourself that it is worth it for the images alone.  Let's face it the phones are taking great images these days and likely to get even better.
Enough of the negatives …
The auto-focusing is fast and the tracking is exceptional especially the face detection which includes eye detection on animals.
The zoom range at the long end is really good but the short end is not so good and not wide enough for decent landscapes. No phone has this type of zoom range without losing detail.
Low light capabilities, even with the lens wide open, is disappointing.  
On the plus side the bokeh is pretty good and gives a nice soft look to the background.
The 4K video is good – better than good with the ultra fast auto-tracking.
Probably the biggest thing the RX 100 VII has going for it is the "Stacked" sensor which together with the BIONZ X produces super high speed capabilities.  It has 357 phase detection auto-focus points (covering 68% of the frame) and no less than 425 contrast AF points.  
While it is a pocket camera all these extras take it to the next level – especially in price.
Recommended For
High speed shooting
Those who want a longer than normal zoom range in a pocket camera
Videographers and vloggers – the camera has very good 4K capabilities with the exceptional auto-tracking facility
Those who do want a pocket camera that actually fits in your pocket
Not Recommended for
The price – essentially you are paying for a whole lot of features when you are likely only going to use one or two of them.  For the price of the RX 100 VII you can get better cameras at half the price for each of the special capabilities of this camera.
Not a great stills camera
Build feels and looks flimsy 
People with big hands
Proven Favourites .. tried and tested
The following cameras have stood the test of time and have been very happily owned and used by thousands of photographers over the years. 
The first of our proven favourites comes from Canon with their new improved G7X Mk III that comes in at a fairly hefty price in the region of US$750.00.  That's still a fair chunk of change for a pocket camera.
The Mk III retains the neat square pocket friendly size and look of it's predecessor – sticking with a winning formula as far as these features go.
And it feels and looks nice and solid!
The G7 range was originally aimed at photographers but soon became popular with bloggers because of the video capabilities. What made it stand out was the excellent auto-focus system, the 24-100 mm f/1.8 – 2.8 zoom lens, excellent image stabilisation and the flip up screen that can be viewed when taking a selfie.
All quite innovative and advanced for a point and shoot pocket camera but the Mk III takes it s few steps further.
In the Mk III they have added much better video capabilities which is sure to appeal even more to the bloggers/vloggers out there.
Now capable of shooting 4k video – an improvement on the Mk II's Full HD
They have also thankfully included a 3.5 mm mic port so you can attach an external microphone for enhanced audio. This alone should prove very popular as sound is so often the weak part of camera videos.
A fantastic feature is the ability to live stream directly to YouTube.  I personally think this is going to be a big point in many a person's purchase decision.  A very clever move by Canon in my opinion.
In addition to YouTube you can send images direct to Flickr, Twitter, email, Google drive, Canons very own Irista and iMAGE GATEWAY. 
Unfoirtunately Facebook has security issues so you can't live stream to them.
Stills can be extracted as individual photos from the 4K video which is pretty nifty.
The 20.1 mp stacked design CMOS sensor is a first for Canon and the 1 inch sensor utilizes the DIGIC 8 processor allowing for shooting up to 30 fps.
Low light conditions are good and there is a built-in ND filter which is available for both stills and video.  This built in filter cuts out about 3EV of light on bright scenes.
On the down side …
There's no viewfinder!  This would be a deal breaker for me because I prefer a viewfinder to the LCD especially outdoors where it can at times be difficult to use the LCD.  What were you thinking Canon?
Recommended for
Photographers and videographers/bloggers and vloggers
Everyday photography – all genres.
Travel
High speed photography
Not Recommended for
Those who must have a viewfinder!
You might be forgiven for thinking our second tried and tested point and shoot camera is a DSLR – it certainly looks like one. 
Coming in at just under US$400.00 this camera represents great value for money.
The biggest plus with this camera is the lens.  
It has a zoom equal to 600mm on a 35 mm camera – that's a lot of reach by any standards and the equivalent lens for a DSLR or mirrorless would cost a large fortune!
But there is more to this lens than the zoom …
Ordinarily a lens with this focal length would not have a wide aperture at the long end but the FZ300's lens retains its f/2.8 throughout.
What does this mean to you?
While zoom lenses magnify your subject they also magnify any shaking or motion blur that may occur (and most of us have a bit of that).
Being able to use a wide aperture of f/2.8 enables you to shoot a fast shutter speed even in low light.  The faster the shutter speed the less chance of motion blur. 
It pays to have good shooting technique but if you do struggle with keeping your camera steady I would suggest using a tripod or some sort of bracing or support when shooting at 600mm – even at f/2.8.
Other good stuff …
At 12.1 megapixels image quality is pretty good even when planning on printing fairly large.
The burst rate is an impressive 12fps.
This rugged camera is well built and is splash and dust proof – not exactly weather sealed but good for slightly adverse conditions.
It may be rugged but it is aesthetically pleasing and fits comfortably in the hand.  I have small hands (for a guy) and had no problems, while a friend of mine has much bigger mits than me and he too found it comfortable.
External layout and control access is all very handy and simple if you are used to something a bit more advanced than a fully auto camera. If not it shouldn't take you too long to come to terms with it.
The Leica f/2.8 25 – 600 mm zoom lens is a versatile range for  any genre – including macro as the shortest focus distance is 1cm.
The 4K (30p) video is more than acceptable – but not the best on the market.  At this price though there shouldn't be any complaints.
Talking of video – single images can be extracted from the video for a slight loss in pixels – these images come out at 8 megapixels.
Auto focus is really fast using what Panasonic call "Depth from Defocus" technology – if you can understand that you're brighter than me!
The sensor has a 5 axis optical image stabiliser to compensate for motion blur in each of the traditional 5 directions – this is a big plus on a camera with this amount of zoom.
Built in Wifi which allows ofr transfer of images and remote shutter release.
The rear LCD screen is a tilt and swivel type – personally I love these screens for those difficult angled shots and for clandestine street photography.
The not so good …
If you are someone who predominantly uses "auto" you're probably not going to like having to navigate your way around the settings and controls.
It looks like but does not behave like a DSLR or mirrorless camera and images are softer by comparison – this is a small price to pay for the extraordinary reach this camera gives you. To compensate for the softer out of camera Jpeg images shoot in RAW and sharpen in post processing.
The audio is limited to the camera microphone and speakers as there is no external jack.
Recommended for
Photographers who want reach – sports and wildlife as well as street photographers come to mind. 
An all round every day camera that will perform well in almost all situations.
Videographers – may be only those who film from a static location though as it isbigger than the smaller point and shoots covered earlier.
Those who are happy to have something a little less sophisticated than a DSLR or mirrorless without the hassles of having to accumulate lenses.
Not Recommended for
I'm not 100% certain if the size of this camera will apeal to bloggers and mobile vloggers. Personally I would be happy to use it and I guess it all comes down to personal preference.
Expectations of high quality extreme detailed images – particularly if intending to print and exhibit of sell.
An old time favourite of mine that tops my list of best underwater camera for snorkeling.
Coming in at just under the US$400.00 you get a lot of great features in this camera.
Technical features include 12 megapixels, a high speed BSI CMOS sensor with good low light capabilities, needed in order to perform at up to 15 meters underwater, and a great bonus on land!
With a lens that is equivalent to a 25 mm – 100 mm on a 35 mm camera reach is decent, if limited – this is understandable seen as it is a sealed waterproof, and therefore dustproof, unit.
Burst speed is an impressive 20 fps allowing for some great action shots in even the fastest of action.  Take great photos of your children at play, your pets and sports and wild life.
A fantastic camera to take to the beach and other venues where water and sand would usually damage any other camera.
In addition to the weather sealing the TG-6 is shockproof up to 7 feet – accidents do happen and its comforting to know that your camera is quite well protected for the odd slip.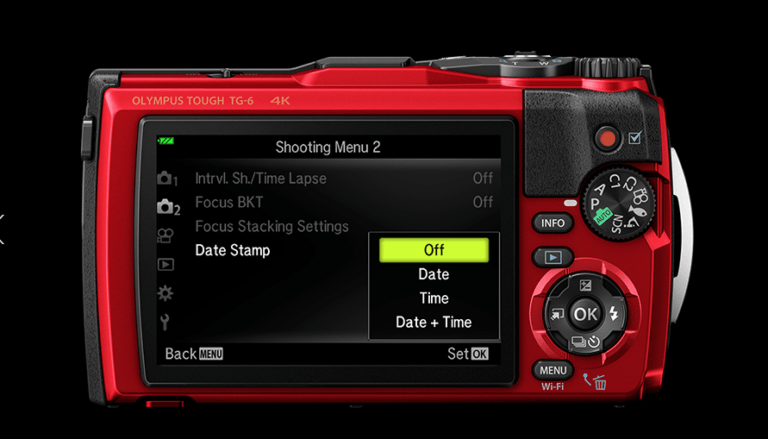 In addition to the weather sealing the TG-6 is shockproof up to 7 feet – accidents do happen and its comforting to know that your camera is quite well protected for the odd slip.
It has exceptional macro capabiliteis and can take photos at short distances of as little as 1cm. Give macro a go – you'll be surprised how much fine,and fascinating, detail you can capture in subjects you've never before thought to photograph.
The UHD 4K 2160p video is another surprising bonus in a camera that is this small and packs so much power.
One of the best features of the TG-6 is the easily accessible buttons and menus found on the back panel.  They are very intuitive and designed to make operation as simple as possible. There are scene modes and 2 personal settings options as well as the tradtional Auto, Program and Aperture modes.
Comes in 2 colour options – black or red (the red is rather nice in my opinion)
Recommended for
The TG-6 is a fantastic little camera that the whole family can use.
Very light weight (0.56 lbs) it is an ideal camera to take on hikes, bike rides and for travel.
And of course there is the underwsater snorkelling option.
This is a fun camera to have as an everyday point and shoot.
Not recommended for
The zoom is limitied to 4 x optical distance and not suitable if you're loooking for something with a very long reach.  This camera is designed for close work.
If you intend becoming a more serious photographer you will soon find the TG-6 pretty limitiing.
If you're looking for reach you're going to enjoy the Panasonic Lumix FZ 80 with its 60 times zoom capabilities. Starting at a wide 20mm the zoom expands (is that the right word?) to an incredible 1200mm. That lion in he distance is going to look like it is sitting on your nose!
Priced at under US $300.00 you get a lot of camera here. If you look at it purely from a pricing point of view there is nowhere I know of that you can get a decent zoom lens for this price – let alone a body to go with it!
While zoom is wonderful to have it can be a problem as far as magnifying camera shake and motion blur.  Fortunately the FZ80 had built-in Power Optical Image Stabilisation to combat camera shake and motion blur.
The FZ80 looks like a "professional" camera – and it performs at almost that level with an impressive 18.1 megapixels providing plenty of detail.
The rear touch enabled screen is a high resolution LCD display that is easy to view in most lighting conditions, including bright sunshine.
 Low-light capabilities are good to very good but, like all multi-zoom cameras, falls off as you get to the longer end of the zoom, just something to be aware of.
Single photos can be extracted from the 4K UHD video that shoots at 30fps. This is a welcome feature that is appearing in more and more cameras these days.  In the past we had to choose between shooting a scene in still mode or as a video.  With this feature both options are available.
The buttons layout is nice and simple and all are easy to operate – see image above.
With USB charging and WiFi capabilities this camera is ready to travel when you are! Connect to your mobile through WiFi or use any one of the additional ports – HDMI D (Micro), Micro USB and USB 2.0.
Recommended for
Wildlife, sport and street photography – with one of the longest zooms available (and certainly amongst the best image quality available for ultra zoom point and shoot cameras) the FZ80 is perfect for those who want a lot of reach without having to carry a lot of gear around. 
Everyday photography.  The easy to use menus and buttons – makes life a lot easier when there is plenty going on and you may need to changed settings and shooting modes in a hurry.
Landscape photographers'  The lens is wide anough at the short end for traditional landscape photography and with the incredible zoom allows you to isolate sections of distant landscapes.
Travel photography – the camera is not too heavy at just over 1.5 pounds and with the WiFi connectivity makes a good all-round travel companion that won't complain about the itinerary or accommodation.
Not recommended for
Travel photographers who want a camera that will fit in the pocket – you'll need very big pockets and even then they will stick out.
The average person who wants something really simple to operate – for example bloggers and vloggers who are on the move and constantly want quick results. There is a lot more to this camera than meets the eye that will slow you down.
Inexpensive ... Value for money
If you don't have a big budget or simply don't want to spend a lot of money on a camera you will enjoy learning about the following selection of cameras that produce good photos for a very reasonable price.
Canon Power Shot ELPH190 IS
Cameras don't come much simpler than 20 megapixel Canon ELPH190 IS – the IS standing for"image stabilisation".
For just under US$160.00 you get a compact digital camera that literally is a point and shoot.
The 10 times optical zoom gives you a 35mm equivalernt range of 24-240 mm – a useful mid range for everyday photography.
Setting options are minimal as the SMART Auto let's the camera select the correct settings for each shot.
A useful "help" button makes for easy a quick and easy reference to familiarise you with the camera's functions.
For specific scenes there are scene modes to make things easy as possible.
A useful "help" button makes for easy a quick and easy reference to familiarise you with the camera's functions.
For specific scenes there are scene modes to make things easy as possible.
Built in Wifi connectivity makes it possible to activate the camera using a compatible smartphone or tablet.
A 20mp sensor with DIGIC 4+ image processor makes for some great images in a small body that is is easy to use.
The high definition 720p video is another nice inclusion for a camera that is this compact.
Battery usage and power saving can be extended with the Eco option which will put the camera to sleep after a preselected time and wake it up at the click of a button.  This is a great feature to have as there is no fun in running out of power half way during the day.
Recommended for
A fantastic camera for the older generation who might find phones too complicated to use.  These folks generally want a simple camera that they are happy to hand  over to grandchildren and have them download the images.
Anyone who wants a really simple and reliable camera with an excellent battery life. The battery life on these cameras are very good as the functions don't take up much power. Like all cameras the power is used mostly by viewing images on the LCD.  Reducing this usage and engaging the eco made will extend your battery life.
On the move bloggers who want a simple camera that is easy to operate and has WiFi connectivity.
Not recommended for
Photographers who feel thay will need a bit of control over images.
Photographers who intend taking the hobby a bit more seriously at a future date.
Good grief – a point and shoot camera for under US$65.00!!
Yes you read that right – this little powerhouse is priced around the $65.00 mark.
With 16 megapixels and a zoom range or 5 – 80 mm (16X) you get a decent compact camera that will take verynice photos – "thank you very much!"
Powered by 2AA batteries (rechargeable or otherwise) you'll never have a problem with power issues – but only if you carry spares.
There is no viewfinder and there is no WiFi connectivity.
You can take complete control of the camera or hand over the duty to the PowerShot with 5 shooting modes – manual, aperture, shutter, smart-auto and program.  
7 Scene modes – snow, fireworks, portrait etc.
In addition to standard face detection software the PowerShot 160 has a rather nifty "face recognition self-timer" – here the self timer will only activate the shutter once a face is in frame and focus is locked. Neat don't you think – the only question I have is what if you want yourself and one other in the photo? I guess you can have a bit of fun finding out how to work that out.
And yes the camera does have a video – a high definition 720p at 30 frames a second.  Not bad at all.
The DIGIC 4+ sensor provides and advanced fast auto-focusing round off a small camera that provides a lot of punch for very few dollars.
Recommended for
Everyday camera for those that don't take a lot of photos – you'll know who you are.  You just want an easy to use camera that you can grab and go when needed.
Children's parties, dinner parties, engagements etc.
Not recommended for
Those who insist on a viewfinder – that's me.
Serious hobbyist or someone intending to take up photography as a weekend past time.
Anyone needing WiFi connectivity – this camera does not have it.
This one caught me totally by surprise as I had no idea it existed.
So I have never seen one – let alone used one.
However reading the reviews was interesting with most reviewers (genuine users who have bought the camera) happy with their purchase.
The dominant characteristics seem to be ease of use, good quality images and great value for money. 
At just under US $90.00 it certainly sounds like a bargain.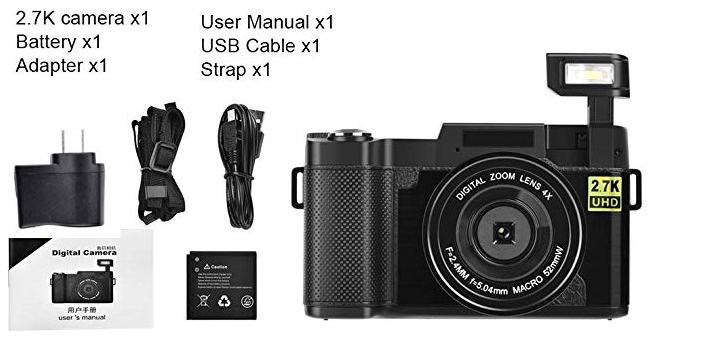 Its small and compact and great for travelling – that's what vloggers and bloggers do.  If you are one of those and don't want something bulky this could be the camera for you.
2.7K Full HD video camera at 25fps. That's more than ample speed and resolution for YouTube videos – what this camera was designed for.
Built-in flash that pops up when required and has some zoom functionality for changing the lot up area from small and concentrated to a slightly larger area.
The LCD flip screen that flips up to 180 degrees for selfies – watch yourself as you record your video. 
A self timer with 2, 5 or 10 second delay, face recognition, anti-shake are all included.
The camera uses an micro SD memory card – class 10 up to 32 GB.
Recommended for
Vloggers and bloggers, travelers and hikers who want to share their experience wit friend and families (no WiFi though)
Novices and those new to videography and want to try it out.  At $89.00 it's not a huge expense to get your toes wet and try it out.
Not recommended for
Those who must have WiFi as the photos are only transferable via USB.
Professionals or the more advanced blogger/vlogger/marketer.
WOW!  The AbergBest 21 is even less expensive at A touch over US $40.00.
I'm guessing the 21 stands for the number of megapixels – mind blowing that a 21 megapixel camera can be this inexpensive.
Again not a camera I have used but like the Digital Vlogging camera mentioned above the reviews (well over 2,000 of them) are mostly positive for much the same reasons:
Easy to use, good images great value for money
Built in anti-shake, a self-timer, face detection, multi shot etc all come as standard
Buttons and operation is extremely simple and uncomplicated.
It has an 8 x zoom factor but I cannot find what this equates to.
The video is a high definition 720p version
The camera uses SD memory cards and the manufacturer recommends class 4 or above between 4 and 32 GB
Recommended for 
Beginners/novices and chikdren or older folk who want simplicity.
At $40.00 you don't have much to lose trying it out and there are at least 2,100 owners out there who feel so strongly about the camera that they have written a review.
Not recommended for
The experienced or more advanced photographer
For Little Humans ... start them young
I can well remember been given my first camera.
It was a very simple little Brownie camera and I think my parents regretted giving it to me within days.
I was totally hooked on being able to capture a moment in time and, besides all the money they spent on developing my blurry photos, I think I tested their patience to the limit from then on.
I remember in particular the thousands (or so it seemed at the time) of photos I took of my mother doing her thing around the house.
Those were fund days indeed.
Today it is so much easier with digial cameras that don't have to have every print develped to see the result.
Another camera I haven't actually used but it looks like a lot of fun and would make a great present to get someone started in photography at a tender age.
At $40.00 this 12 megapixel camera and vieo recorder seems like a great starter.
It has a rechargeable built-in battery which means the little guy (or gal) isn't going to lose it!
Made from environmental and non-toxic materials the camera provides ultimate safety for the little ones skin and sensitive areas, such as the eyes.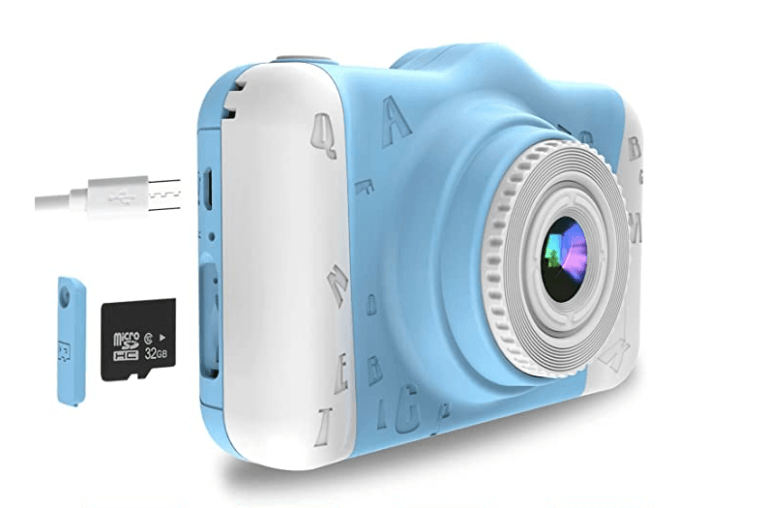 The transfer of images to computer is not unfortunately by WiFi but by USB cable.  Just thinking of today's youngster I would have thought they could handle WiFi perfectly but this might have added to the cost.
It has multi-functions comes in blue or pink and includes 12 fun stickers.
Takes a 32G TF Micro SD card (included in package) that will record thousands of jpeg images.
Video resolution is 1080/720p and image quality can be set at 12 mp, 8mp, 5mp and 3mp.
The best part is the big bright 3.5″ screen
Makes a fantastic present
Kids will love it
Recommended for
Kids – yes those little guys we love and cherish and who have unlimited minds and imagination – the only thing you need besides a camera to get started.
Fantastic present for junior – Oh man what I would have done for one of these all those years ago.
Not recommended for
Adults – seriously get a bigger toy.   🙂
Final Word on Point and Shoot Cameras
There are those who belittle point and shoot cameras as being below professional standards.
I hope this post has convinced you otherwise and remember the best camera in the world is the one you have with you when the scene presents itself – and that my reader is where the point and shoot makes an ideal camera.
Most of us so-called professional or good photographers own a point and shoot amongst our collection of favourite cameras.
I certainly prefer them to a phone camera which i've never gotten used to. Age sucks but hey it beats the alternatice of dying young.
So what do you think of point and shoot cameras?

Let me know which one you've got and your thoughts overall in the comments section below.
Share this post and site on social media