Using the best portrait photography backdrops will elevate your portraiture above anyone elses.
Portrait photography is all about the subject – the face/s in front of your camera. 
There are a number of ways to ensure that you get the image you are trying to portray from make-up and colour coding through to lighting and equipment.
One aspect, which is often overlooked, is the background which can make or break an image.
You do not want distractions or conflicting interest to take away from your subject. Besides detracting from your subject it could cost you hours of extra work in post-processing to tidy it all up.
Solve this problem before you press the shutter with a high quality backdrop specifically for portraits.
Here are some thoughts on the best portrait photography backdrops available on the market today.
Also see my portrait photography tips and techniques  post.
What to Consider When Deciding on a Backdrop
Decisions, decisions …
Intended Outcome?
Before you even start you need to know what your intended outcome is – do you want a dramatic portrait, a beauty portrait, a fun portrait, a textured background for effect or do you intend to replace the background and insert your own?
Portable or Fixed?
Backdrops are invariably used in studios or on location.
Where you shoot will determine what type of backdrop would best suit your requirements – for example if you are going to be taking it on location you probably want something light and easy to transport. 
The material it is made from plays a big part in this.
Wide, Tall or Both?

The overall dimensions of your backdrop will depend on the size of the room you are working in.
It will also be determined by the type of portrait work you do – for example individual portraits can be done with a fairly narrow backdrop whereas large groups require something much wider.
Height will be determined by whether you want to do full body length portraits or just headshots.
Colours Determine the Mood.
Your backdrop colours determine the mood of your photos.
Dark backdrops create high contrast and drama where as lighter neutral tones are softer and more romantic. 
Bright colours are dramatic but can overwhelm.
Choose your colours wisely – the best advice I can offer it so understand the colour spectrum and to know what colours go well together and what colours clash.
Match your model's clothing to the backdrop to get the mood you are after.
Use the colour spectrum (pictured here) to guide you with colour coding.
Backdrop Material.
More on this in the next paragraph but always consider how you will store and hang your backdrop. 
Ideally you want to be able to store it in a way that when it comes time to use it there are no creases or wrinkles on it.
Digital cameras pick up every little detail and you can save yourself a lot of time in post processing by having a crease or wrinkle free backdrop.
Iron or steam them out before the session if you have to.  The 10 minutes it takes to do this is well worth the hours you'll save later.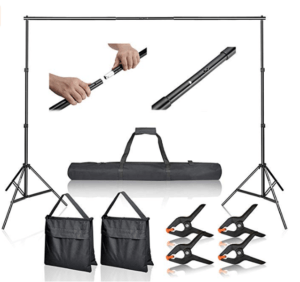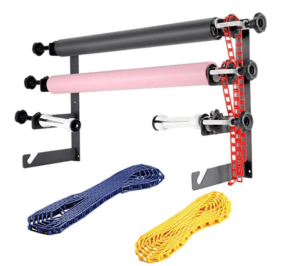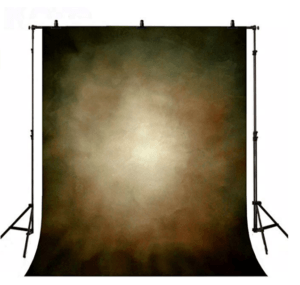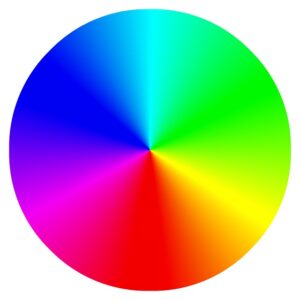 Different Materials Used in Backdrops
Backdrops are made of a range of materials and each has benefits and disadvantages which I discuss later.
They are made of:
Fabric – Muslin and Canvas
Paper 
Vinyl
Different materials are used for different applications – for example any backdrop that is green can be used as a "green screen" (more on this later).
Muslin, canvas and paper can all be used as seamless – you'll learn the pros and cons of each and which suits your needs.
Fabric Backdrops - Pros and Cons
There are two popular types of natural fabric used for backdrops;
The difference between the two is essentially density – muslin and lighter and therefore more transparent than canvas. 
Both provide a beautiful professional, uncluttered background for portraits – in some cases a bit of care and pre-planning is needed though (see below).
Pros
This would be my #1 recommendation for those with a dedicated studio.
Ideal for creating beauty portraits. You can create some amazingly stunning beauty portraits with the correct backdrop and colour coding either with perfect separation between the subject and the backdrop or with subtle colour tones that blend into each other.
Hangs beautifully and won't crease if kept hanging – I highly recommend using a permanent wall stand (see image above) if at all possible.
Should not crease if stored in a roll.  If it does crease when stored this way the creases should be minimal and are easily removed with a steamer.
Canvas absorbs lights and in so doing eliminates hot spots.  Light reflecting back to the camera from natural light or studio lights will impact negatively on your image and take time in post processing to remove.
Bouncing light off the canvas for backlighting produces a beautiful soft effect – this ideal for separation between the subject and the backdrop.
Is thick enough to prevent light shining through. 
There is nothing worse than viewing a photo only to find that your camera has picked up detail that is behind the backdrop.
Save yourself this frustration and hours of post processing by using a canvas backdrop to eliminate this possibility.
Looks more professional than other backdrops.
You can make your own unique hand-painted backdrops.  It takes a bit of practice (and is fun) to get the desired look but is well worth the effort.
Fantastic for adding textures in post-processing and creating unique and varied portraits from one single image.
Unlimited and unique designs available – there are hundreds of different colours and designs to choose from in addition to the possibility of painting your own unique canvas backdrop. 
Cons
Is heavier than other materials and therefore not ideal for transporting around.  Having said this I do take mine with me when I have an out of studio session.  The end result is worth the trouble of ironing out any creases as I set-up for the session.
Requires strong support. If you are using movable stands the last thing you want is for your backdrop to fall on your subject.  Besides the possibilities of injuries it can be extremely embarrassing and have legal implications.  Be safe and buy the heaviest stands you can afford.
The weight of the canvas may cause the crossbar to bend resulting in visible creases in the canvas and creating an unprofessional and cheap look – always use an inflexible crossbar (trust me on this one) to save yourself time and embarrassment.

Pros
Light and easy to hang – this is great if you don't have an assistant and are working on your.
Does not require a heavy duty stand for support.  Once again this makes it easier to move both the stand ad the backdrop around.
Perfect for transporting to external locations because they are so light and easy to set-up. 
Excellent  for simple headshots such as those used on business cards or websites where you just want a bog-standard portrait. 
Easy to store. Can be stored hanging up – this is best to avoid creases, or rolled up, if you have limited space. If rolled up it will almost always need to be ironed before use.
Cons
Thin material that will allow light to pass through from either side. To overcome this issue use a double layer or a second backdrop of a similar colour directly behind your main backdrop.
Creases easily and will need to be ironed and pulled taut each time it is set up. This might be a pain but not as painful as a spoiled image or spending hours in post processing to fix it up.
Limited design options. Being made of woven material muslin backdrops don't come with much variety.
Looks cheap in comparison to Canvas.

Paper Backdrops - Pros and Cons
Paper backdrops come in rolls in a variety of lengths (as long as 36 feet) and widths to suit all studio and off site situations. 
Seamless and crease-free paper backdrops have been popular for professional and clean looking fashion and beauty shots for years. 
Because full rolls are heavy a solid support system is recommended.
Pros
Cost effective – rolls of seamless paper last a very long time and can be used over and over.  If and when a section get's creased, dirty or starts looking old simply cut it off and roll out a brand new section.
Create smooth and attractive backgrounds with no clutter or distractions for headshots and portrait photography.
Clean simple and vibrant. Consistent colour throughout with a range of vibrant or plain colours to choose from.
Totally eliminates any need to work on background in post-processing. This could save you hours of work and frustration – spend your time on enhancing the portrait, not the background. Saving time by not having to fix mistakes is music to any photographers ears.
Set-up in seconds. Tightly wound around a cardboard core the paper is very easy to unwind and set-up on your own (no assistant needed but one is always preferable).
No ironing or steaming required.  Roll it out and you're good to go within seconds. Nothing could be easier.
For studio or location shoots. Easy to transport subject only to the width you choose. I've transported wide rolls in my bog standard car without too much trouble.
Create seamless backgrounds. Remove distracting breaks between the floor and the backdrop by extending the roll. Sweep it on to a smooth hard floor and tape it down. The model can now stand on it, or place your props on it, and take photos with no distinction between floor and background.
Easily stored  – taking up minimal space. Can be stored vertically or horizontally (recommended) to suit your requirements.
Cons
Creasing. If the roll is bashed/dropped/banged or the central core is damaged, as sometimes happens during transportation, the entire length could be impacted. Handle with care and do not accept or buy a roll that has an obvious dent in it especially if the damage is through to the inner core.
Unravelling. This is not a negative of the product – it is after all on a roll and designed to unravel. The problem is if it unravels too much.  Use a clamp to secure and stop the paper unravelling beyond the point you want.
Subject to humidity. The words "store in a cool dry place" come to mind. Made of paper they sensitive to moisture  and it is best to store them in a dry environment away from any risk.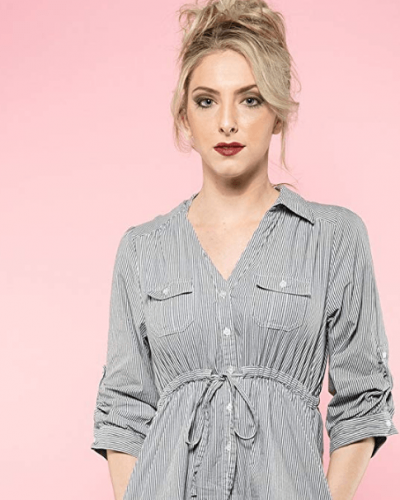 Vinyl Backdrops - Pros and Cons
Vinyl backdrops are a fun and easy way to create the background of your choice.
Made from strong long lasting vinyl with a pliable cotton back.
Although you can get a plain vinyl backdrop they are more commonly used as themes in birthdays, baby showers, parties and other celebrations.
Keep the backdrop taut for best results – vinyl backdrops are usually thin. It is advisable to secure the edges to your backdrop stand with clamps and tape the floor section down firmly.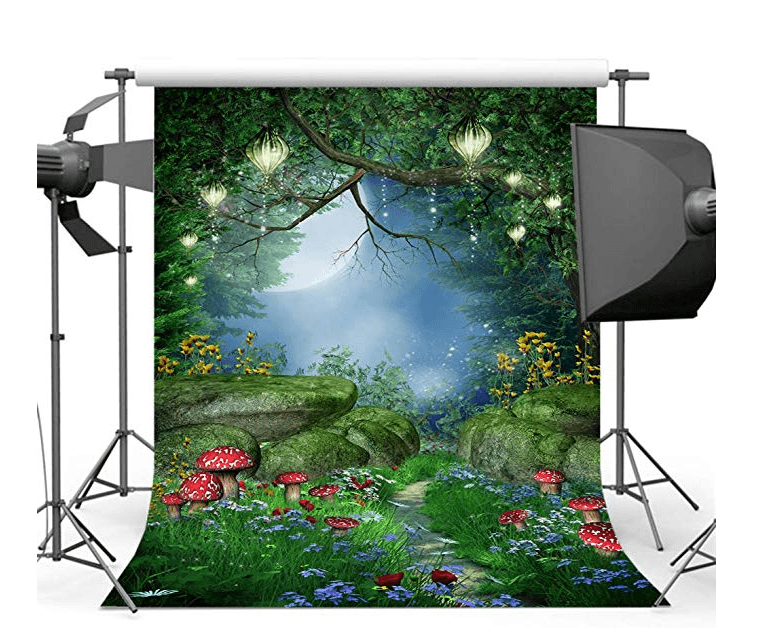 Pros
Consistent and clean backgrounds for theme functions and fun portraits.  Create the theme you want in any environment.
Easily transportable.  Very easy to move around and transport. You could even have a couple of different themes/backdrops at any one event.
Easy to clean – simply wipe with a damp cloth.  
Creases can be ironed out. Small creases can be ironed from behind with a cool iron.  Do not use a hot iron folks as your backdrop is vinyl.
Use over and over for years to come.
Lots of patterns and colours to choose from. Virtually any theme can be found. Popular ones are natural wood floors and walls, rustic brick walls, glitter backdrops, barn walls, floral backdrops – so many to choose from.
Cons
Sizing – I've read a few reviews where people have been disappointed with the sizing. These seem to arise because folks haven't paid attention to the description, asked questions or measure their own space correctly.
Fading and or discolouring. A couple of negative reviews refer to fading and discolouring.  This does happen with cheaper versions and it is best to store your backdrops undercover away from light. 
Heavy creases won't come out. Any severe creasing will nor come out so handle with care.  Using a too hot iron to iron these out will simply result in the vinyl stretching, warping or melting.

Collapsible Backdrops - Pros and Cons
Most commonly made from micro-fibre, a nylon blend or a cotton material collapsible backdrops are very transportable and easy to use in even the smallest of spaces.
They are double sided so you get two for the price of one! Plain and patterned options available. 
Make that four for the price of one – I just remembered they can be used vertically or horizontally too.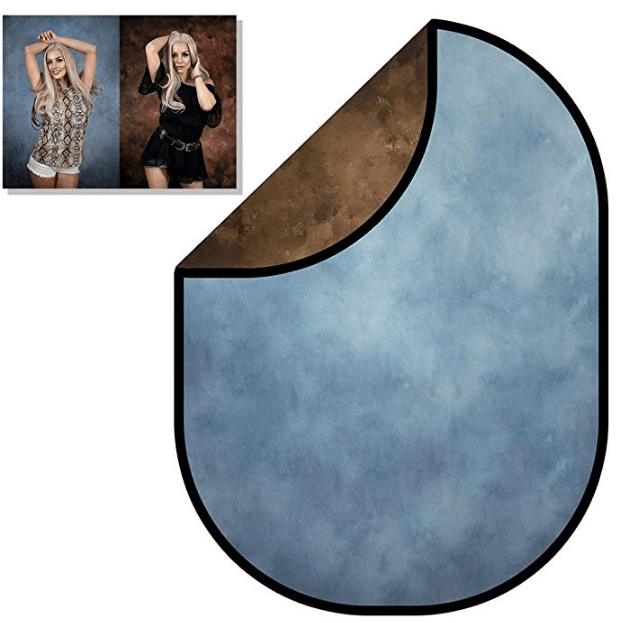 Pros
Wrinkle and crease free – no ironing needed and zero extra post-processing saving you hours of endless work.
Lightweight and easily transportable making them ideal in both studio and external use.
One person operation.  No assistant required.
Non-reflective and non-glare eliminating any chance of hot spots.
Inexpensive – great value for money for a long lasting, versatile and functional backdrop.
Easy to clean. Simply wipe with a damp cloth.
Long lasting. Your collapsible backdrop should last you for a long time due to the high quality material and its simple but effective storage.
Compact storage. The backdrops fold up to a 1/3rd of the original size.
Cons
Can be difficult to fold up the first time. Everyone struggles to fold these up the first time but once you have the hang of it it takes not time at all.  As a bonus you will probably laugh at your initial efforts.
Limited size. Best used for single portraits (vertically or horizontally) and double portraits (horizontally) due to the limited size of collapsible backdrops.

I've included Green Screens in my post but have to confess that I have as yet not done much research on them. 
They are used mostly in video presentations where the background (the green screen) is removed and replaced with any other background of the editor's choice.
This is a great tool for video presenters, bloggers (or Vloggers as they are called) and product owners who use videos to promote their sales.
I will be getting one for my own YouTube channel and product reviews at some future date.
Specific software is required to remove and replace the background.  There are a number of different software applications some are free and others vary in cost. 
For more information on the required software applications click here.
Note: Although green is the generally accepted colour a blue  screen backdrop can also be used.

A Final Word on Portrait Backdrops
I am sure you now have a better understanding of the importance of selecting the correct backdrop for the image you are trying to create. 
A backdrop, or lack of one, can really make or break your photo.
With so many to choose from it is best to start your selection on the basis of your own situation and working environment.
From there get the best portrait backdrop and set-up for your needs.
Let me know what you think in the comments section below.
Share this post and site on social media