You've probably invested a substantial amount in purchasing a camera  and some amazing lenses – the best you can afford right?
Well then it makes sense that you should look after them – both when handling them and when they are not in use.  
Your gear is well engineered and robustly built but still need to be treated with care if you want it to continue to perform well. Don't go chucking cameras and lenses about as if they are unbreakable – they're not! 
Take the same amount of care when storing them – ensure you store them correctly as they are susceptible to fine dust particles and moisture, especially humidity (which is the main source of fungus in lenses).
For day-to-day use get the best camera bag you can afford and for those times when you aren't using it get the best camera dry cabinet you can afford. 
A camera dry cabinet (dehumidifier) is the best way to protect your valuable photographic gear against fungus and damage from humidity during lengthy periods of inactivity.  
Keeping your camera and lenses in an enclosed, and possibly stuffy, camera bag or backpack should be avoided, if possible.
A camera dry cabinet makes a fantastic gift for the photographer in your life – trust me, he/she will be thrilled to receive one of these!
What to Look For in a Camera Dry Cabinet
Camera dry boxes are – well … just boxes, nothing too complicated about them but you still need to ensure you get one that suits your needs.
There are a number of different brands that are all designed do the same thing. 
Looks may differ slightly and sizes vary quite a bit.  It is the latter that I would consider to be the most important.
In this review I cover a couple of brands that are popular and may be of interest to you.
I've started with the Forspark range of humidifiers because they have a large selection of sizes, are excellent value for money, are readily available and come with excellent after sales service.
Before we go on to the actual units let's look at some general aspects of selecting your camera dehumidifying cabinet.
Shape and Size Both Count - no matter what others may say ...
The main priority is to fit your gear in your dry cabinet comfortably – allowing for any future purchases you plan on buying – such as that extra lens you've always dreamed of.
Dry cabinets come in different configurations (vertical or horizontal aspect) – get one that will fit the space you intend placing it in.
Once you have your cabinet you will probably find other items that could benefit from humidity control – as I did with my binoculars and hearing aids.
Adjustable Humidity Control with LED or Analog Display
A reliable and adjustable humidity controller is the main difference between a good and a bad dry cabinet. 
If you're in the market for a dry cabinet be sure to get one where the humidity range is visible and you can tell at a glance that the unit is switched on and working as it should.  
You don't want to go opening your cabinet after a couple of weeks only to find it has packed up and your camera and/or lenses are damaged as a result.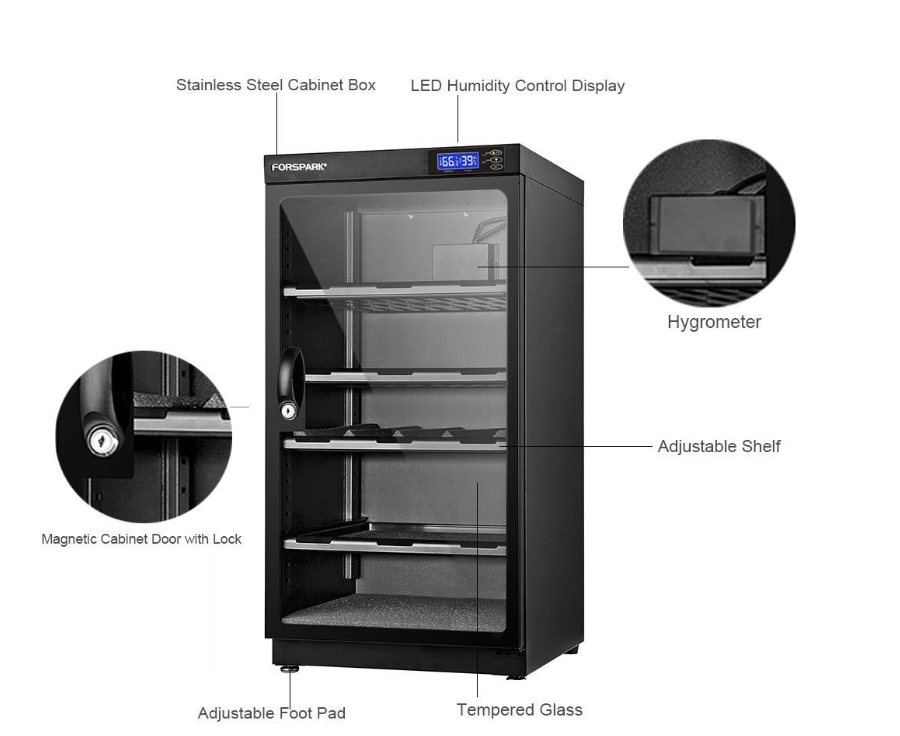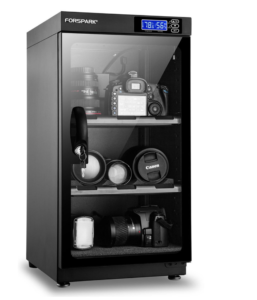 Airtight Seals and Solid Construction
Your unit needs to be airtight to function properly – and for this solid construction is important.
Door seals should be similar to those found on a fridge or freezer. Check them regularly and if perished, or ill-fitting, replace as soon as possible.
Preventative maintenance is better than cure and always less expensive!
Correctly functioning seals ensures the unit is working at maximum efficiency and reduces the running costs of the cabinet.
Power cables that lead into the cabinet need to be equally well sealed – once again to ensure efficiency and minimal running costs.
I like a dry cabinet with a locking facility – not so much for security from theft (although it is a deterrent) but more for security from accidentally leaving it open.
And in my case innocent but inquisitive grandchildren!
FORSPARK Range of Camera Dehumidifying Dry Cabinets
Common Features (all Forspark models)
The Forspark Range of electric dehumidifying dry cabinets are all made from easy-to-clean, black-coated stainless steel with lockable air-tight tempered glass doors and stainless steel feet.
The highly visible LED temp/humidity control panel let's you know at a glance that the machine is on and what the internal settings are. 
The differences in the models are the power source, power output and physical dimensions – see more deatailed information on the cvarious models below for specs.
All units come with a thin sponge/foam on each shelf to stop your gear sliding around.
Adjustable (levelling) foot pads are a standard feature throughout.
All models are very economical and silent.
Pros
A wide range of sizes and configurations (horizontal or vertical) to choose from – see below
Options available to suit all budgets
Simple to operate and inexpensive to run – very functional units
Slim and standard lines that look good
Lots of very positive reviews for all models
Cons
High demand for the units may mean you have to wait a few days for delivery – this could be worse than normal due to the effects of Covid on shipping.
Forspark 30L Electronic Dry Cabinet
Power source: 110 – 220 Volts AC/5V 2A 
Power Output/usage: 8 Watts 
Controlled Humidity Range: 25% – 60% (+/- 5%)
Internal dimensions and shelving: 
30L – 11.34″ x 11.42″ x 14.37″ 
Weight – 16lbs
1 Adjustable padded shelf
Suitable for: This is a small unit and will suit someone with one camera body (DSLR or smaller) and a couple of lenses.
If you intend getting more photography gear in the future consider a bigger model.
Highly recommend for those with the smaller mirrorless set-ups. However if you have a lot of lenses consider one of the bigger models.
Forspark 50L Electronic Dry Cabinet
Power source: 110 – 220 Volts AC/5V 2A DC
Power Output/usage: 8 Watts 
Controlled Humidity Range: 25% – 60% (+/- 5%)
Internal dimensions and shelving: 
50L – 11.34″ x 11.42″ x 20.87″ 
Weight– 22lbs
2 Adjustable padded shelves
Suitable for: This model and the 80L model are the most popular in the range. A versatile size that will accomodate two DSLR sized bodies and 4 or 5 lenses.
Produced as a vertical model it requires very little floor space yet provides a decent amount of storage with 3 shelves.
Forspark 80L Electronic Dry Cabinet
Power source: 110 – 220 Volts AC/5V 2A DC 
Power Output/usage: 8 Watts
Controlled Humidity Range: 25% – 60% (+/- 5%)
Internal dimensions and shelving: 
80L – 21.06″ x 12.95″ x 17.72″
Weight – 32lbs
1 Adjustable padded shelf
Suitable for: A very popular size as the horizontal and deep configuration allow for the storage of long lenses – as opposed to compact telephoto lenses.
This unit will comfortably take 2 or 3 DSLR (or smaller) bodies, a number of lenses (there are 7 pictured here) and other gear – such as a flash unit or two.
A practical unit that will probably meet the majority of photographers' requirements.
Forspark 100L Electronic Dry Cabinet
Power source: 110 – 220 Volts AC/5V 2A 
Power Output/usage: 8 Watts 
Controlled Humidity Range: 25% – 60% (+/- 5%)
Internal dimensions and shelving: 
100L – 14.88″ x 14.09″ x 27.17″
Weight – 32lbs
4 Adjustable padded shelves
Suitable for: A big unit that will take a lot of gear including DSLR or Mirrorless bodies, drones, large lenses etc.
Comes in a vertical format (small floor area) that will take a lot of gear with the 4 adjustable shelves- see image right.
Forspark 120L Electronic Dry Cabinet
Power source: 110 – 220 Volts AC/DC/ 5V 5A
Power Output/usage: 15Watts.
Controlled Humidity Range: 25% – 60% (+/- 5%)
Internal dimensions and shelving: 
120L – 28.5″ x 27″ x 18.5″
Weight – 43lbs
2 Adjustable padded shelves
Suitable for: Lots of space in this big boy – a lot of which is in the depth of the shelving. Camera bodies and lenses can be stored one in front of the other on the 3 shelves (2 adjustable).
Consider this (or the next biggest) unit if you:
are a photographer or videographer with a ton of gear – and let's be honest here if you have this much gear you're not likely to be lugging it all around with you everyday.  
That means the gear you're not taking out for the day can be safely stored in the dry cabinet.
are a photographer who does studio work – ideal for the home studio.
Collect Cameras or electronic equipment.  
Forspark 125L Electronic Dry Cabinet
Power source: 110 – 220 Volts AC/DC/ 5V 5A
Power Output/usage: 15Watts.
Controlled Humidity Range: 25% – 60% (+/- 5%)
Internal dimensions and shelving: 
125L – 38″ x 18.8″ x 18.4″
Weight – 42.3 lbs
4 Adjustable padded shelves
Suitable for: The comments mentioned above (120L unit) apply equally here.  The difference being this vertical unit with extra shelving provides just that bit more storage space.
Stick a couple of these space-saving units next to each other and you really can safely store a shop full of camera gear!
Safety First:
It is highly recommended that you plug your dehumidifier through a power surge protector.
Protecting your camera equipment from moisture and dust are one thing but you don't want your cabinet to go up in smoke.
Get protection for a few dollars more – don't regret it later.
Use a power surge protector for all your electrical appliances!
Relative Humidity Settings.
The ideal relative humidity settings for photography and most electronic gear is between 40% -50%. 
We recommend a setting of 45% to accommodate the +/- variance of 5%.
If in doubt please check with your camera dry box manufacturer.
What People Are Saying About The FORSPARK Range
As always I take time to read reviews before I buy, or recommend, a product and the FORSPARK range of dehumidifiers had nothing but great reviews – the following is a handful of them.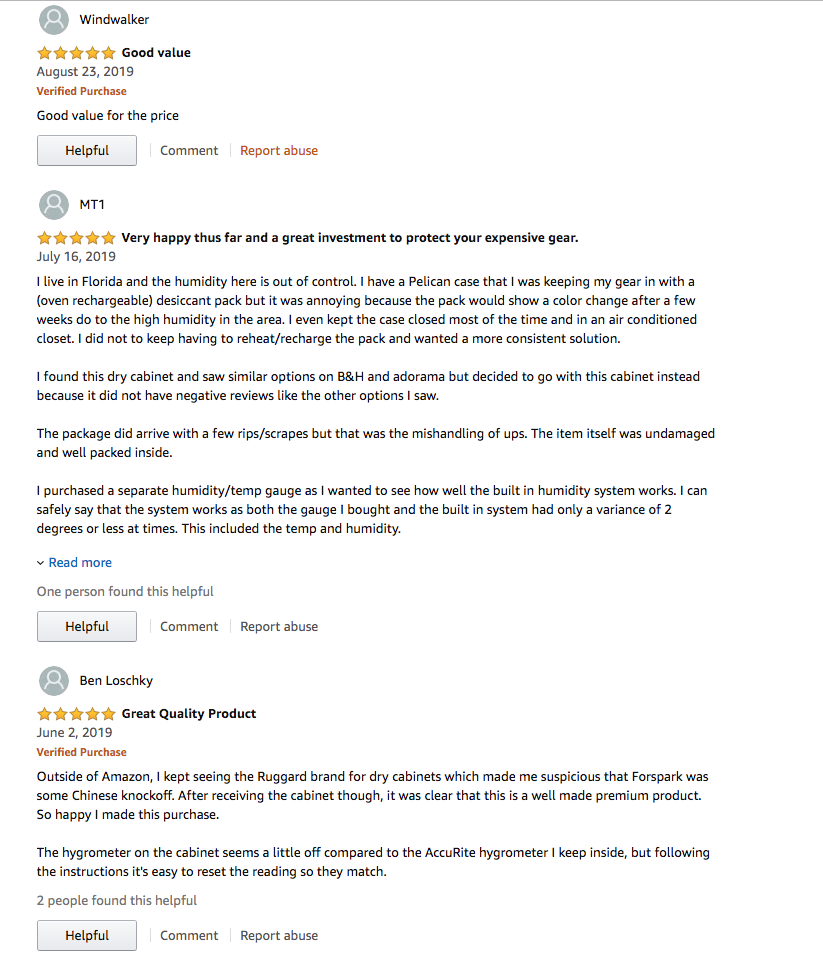 Ruggard Range of Dehumidifying Dry Cabinets
Common Features (all Ruggard models)
All Ruggard models come with a multi-selector switch to select between 110- 240 v.  This is useful and eliminates the possibiity of ordering a unit with an incompatible power source to yours or the need to use an adaptor.
The humidity range is slighty narrower and higher than the Forspark models at  35% – 60% but the variance is an excellent 3%.
The LCD display panel is very clear and visible while each unit comes with a lockable glass door (two doors on some models) and are all solidly built and aesthetically pleasing. 
Pros
 All models bar the 30L one have level adjustments on two of the four feet.
To run efficiently a humidifying cabinet should be level (similar to a fridge) so this is a nifty addition for uneven floors.
Humidity adjustment takes between 1-3 hours.
All glass tempered doors are lockable.
All units are very silent
Cons
Level adjustments on all 4 feet would be nice.
There may be a delay in supply for the more popular sizes – particularly the 50L and 80L models.
Ruggard 30L Electronic Dry Cabinet
Power source: 110 – 240 Volts AC 50/60Hz
Power Output/usage: <8Watts.
Controlled Humidity Range: 35% – 60% (+/- 3%)
Internal dimensions and shelving: 
30L – 14.4 x 11.4 x 11.3″ / 36.5 x 29.0 x 28.8 cm
Weight – 14.3 lbs 6.5 kilos
1 Padded plastic shelves
This is the only Ruggard model with no levelling adjustments on the feet
Suitable for: 
This is a small unit – don't even consider it if you intend buying more gear.
Ideal for someone with limited gear – say 1 DSLR and 2  or 3 short or telephoto lenses.
Ruggard 50L Electronic Dry Cabinet
Power source: 110 – 240 Volts AC 50/60Hz
Power Output/usage: <8Watts.
Controlled Humidity Range: 35% – 60% (+/- 3%)
Internal dimensions and shelving: 
50L – 11.3 x 11.4 x 20.9″ / 28.8 x 29.0 x 53.0 cm
Weight – 20 lbs 9.1 kilos
2 Padded plastic shelves
Suitable for: 
Good size for 2 DSLR (or smaller) camera bodies, a range of up to 4 or 5 lenses plus a few more smaller bits and bobs.
The vertical configuration provides for maximum storage with minimum footprint.
Will suit most hobbyist photographers.
Ruggard 80L Electronic Dry Cabinet
Power source: 110 – 240 Volts AC 50/60Hz
Power Output/usage: <8Watts.
Controlled Humidity Range: 35% – 60% (+/- 3%)
Internal dimensions and shelving: 
80L – 17.7 x 12.9 x 21.1″ / 45.0 x 32.9 x 53.5 cm
Weight – 29.5 lbs 13.4 kilos
1 Adjustable steel shelf
Suitable for: 
This from Chris Higgins a proud owner of a Ruggard 80L dry cabinet: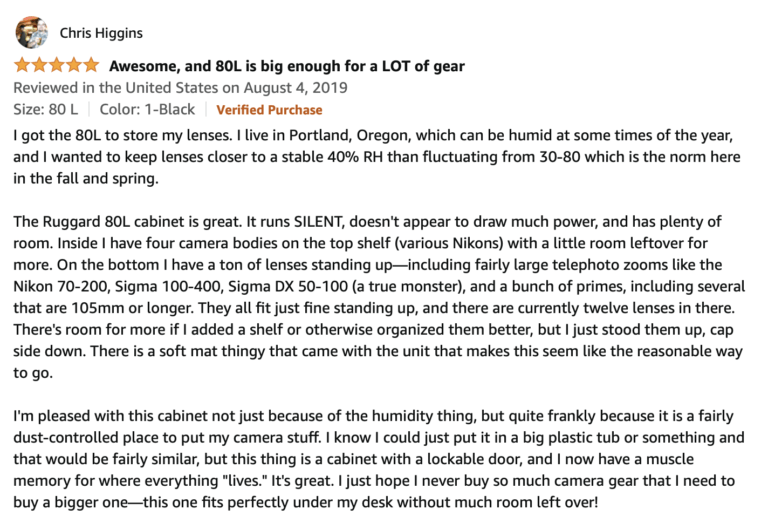 Ruggard180L Electronic Dry Cabinet
Power source: 110 – 240 Volts AC 50/60Hz
Power Output/usage: <15Watts.
Controlled Humidity Range: 35% – 60% (+/- 3%)
Internal dimensions and shelving: 
180L – The top section is slightly smaller than the bottom one.
Top 14.9 x 14.2 x 21.4″ / 37.8 x 36.0 x 54.3 cm
Bottom: 14.9 x 14.2 x 27.2″ / 37.8 x 36.0 x 69.0 cm
Weight – 58.4 lb / 26.5 kg
Double Door Unit – both sections are lockable and independently adjustable for humidity and temperature
Top section comprises 3 storage spaces with 2 shelves
Bottom section comprises 4 storage sections with 3 shelves
Suitable for: 
From a photographic point of view this will take a lot of equipment.
It is also ideal if you have different relative humidity requirements – such as for electronic gear (cameras and lenses) and for papers.  
Each can be stored with seperate controls in the different sections.
Australia and Oceania Region
If, like me,  you live in the "Downunder" region of Oceana getting a dehumidifier from Amazon can be expensive!
Good news is that SIRUI have a range of dry cabinets available and shipped out of Australia. This results in a big saving on shipping for equally good dry cabinets.
This is in addition to their range of high quality, and very popular, photographic gear.
I'll be researching and reporting on these in future posts.
In the meanwhile here are some models to wet your appetite! 
SIRUI Range of Camera Dehumidifying Dry Cabinets
Common Features (all SIRUI models)
Made in China and distributed from Australia the SIRUI range of camera dry cabinets/dehumidifiers are proving to be very popular world-wide.
SIRUI are better known for their tripods, tripod-heads and a number of other photo accessories.
They have an overwhelmingly positive range of reviews for all their photographic products: a sure indication of a company that prides itself on quality.
Like the other brands featured here the main difference between the 4 models is essentially capacity.
The folowing is applicable to all units.
RCM approved for use in Australia (Ozzies will know)
Warranty is as follows – 6 Years for the cabinet and 3 years for the electronics
Designed to protect your gear from dust and humidity
The controllable dehumidifying system provides for a humidity range between 25% and 65%. The LCD indicates a humidity range of between 20% and 99% letting you know at a glance if the hmidity is too high or too low
Easy-to-Read LCD Screen
Adjustable Shelving:
the 50L has 1 shelf, the 70L has 2, the 110L has 3 and the 200L has 4 within two vertical lockable compartments
The material used in the frames is 1.2mm thick steel welded together to provide an airtight enclosure
The lockable doors are made with tempered glass fitted with an air-tight seal
All units are silent running and energy efficient.
Pros
Great humidifiers that ofefr cheaper shipping options to those in Australia and New Zealand
Ideal for long term storage of sensitive electronic equipment
Button controlled exterior panel for programming required settings
The bright LCD screen displays humidity level as well as internal temperature of unit 
The shelves are adjustable and the interrior is lined with foam to protect your gear from breakage
Cons
Shipping!
Shipping from Australia adds to costs and delays for overseas customers.


Why Get a Dehumidifying Cabinet For Your Camera Gear?
Digital cameras are ruggedly built and designed for regular use and manhandling.  Many of them come with weather sealing, as a standard feature – so why should you spend more money on a dry cabinet?
Fungus … that's why.
Moisture is your camera, and your lens', worst enemy – dust is a close second.
The truth is …
No weather sealing is 100% and in most cases the sealing applies to the camera body whereas it is lenses that need the most protection – particularly from humidity.
If you've got a great waterproof camera bag or backpack it's a good idea to air it completely, once in a while.  When your camera's not in use give your bag a break and store your gear in a camera dehumidifying cabinet.
Heck if there's room in the cabinet chuck your bag in too.
Camera bodies are regularly replaced and upgraded but your expensive lenses stay with you forever – or at least until you change systems or brands.
Should you plan to sell your equipment one day it is much easier to get a good price for a well looked after fungus and dust-free lens (or camera body for that matter), than it is to sell a fungus infected one.
Dust and moisture can easily get into to the smallest of openings and both are very difficult to remove.
This is where good care, maintenance and storage plays a big part in preserving your gear – not only from a resale point of view but also to ensure continued top performance from your equipment.
Who Should Invest In A Camera Dry Cabinet?
This is a pretty good question because not everyone should go to the expense of a big electronic unit that takes up a fair amount of space.
Bear in mind that even if you do have a really good camera bag it is not the ideal place to store your camera gear for any length of time – you could well regret it.
Maybe you don't have much by way of gear – in that case a well-sealed storage unit with a few silica gel desiccant bags will do the job just fine.  Remember to recharge or replace the bags regularly.
You should consider getting a camera dry cabinet if:
You live in an area that has high humidity. 
Phoenix Arizona is pretty dry all year round I am told whereas Florida has high humidity for a large part of the year.
I live in New Zealand where we get a lot of rain and a fairly big variance in both humidity and temperatures – we definitely need one here.
You live in an area with extreme weather conditions.
If you can keep your camera stored in an environment that is constant in both temperature and humidity you will get more consistent results and your camera will last longer. 
Cold weather is not a camera's best friend!
Obviously you have to take your camera out to take photos but as soon as you are done get it to room temperature as soon as possible and then store the camera body and all your lenses in a dehumidifying cabinet.  You won't be sorry.
You have a lot of $ invested in lenses.
Camera bodies come and go but we keep our lenses forever – especially the expensive prime lenses we have invested in. 
Keep their performance and resale value high by looking after them and ensuring no fungus gets the opportunity to grow and breed in them. 
Once it is takes hold fungus is difficult and expensive to get rid of it.
You don't use your gear often.
Surprise, surprise! You thought storing your seldom used gear in a dark cupboard will be fine. Well the truth is those are the exact conditions under which fungus thrives.
Ever seen fungus grow in an area that is constantly exposed to sun? 
Nope never.. Sun is fungus' worst enemy
Ever seen fungus in areas that are dark and never get the sun?
Yep ..
Go figure.
And if …
You just want to look after your gear properly.  It's not a huge investment to secure high-end items.
For example …
You wear hearing aids.
Yes you "heard me right". 
Expensive electronic items like hearing aids also suffer from moisture getting into them.  I've had two hearing aids go on the blink because of moisture and at NZ$4000.00 a pop (I know – insane right?) they now reside in the dry cabinet when I'm not wearing them. 
Final Word on Camera Dry Cabinets
The world is currently in COVID turmoil – for me it seems like it has been a 100 years of it and one of the biggest impacts has been on shipping costs and delays.
To avoid even longer delays I strongly suggested that purchases from retail outlets such as Amazon, whose business depends entirely on delivering, are the way to go.  They have a very strong vested interest in getting your purchases to you!
On that basis (and for the reasons stated above) I highly recommend one of the FORSPARK range of camera dry cabinets carried by Amazon.
Forspark cover all options in terms of size and budget – the most popular sizes are the 50L and 80L models while the 100L ones have also proved popular. 
Definitely buy the right size first time around – excess space is a much better problem to have than too little space.
Let me know which you prefer and if you have found other brands you'd like me to research I would be more than happy to do so.
Leave all your comments, questions and suggestions below and I will get back to you as soon as I can.
Until next time …
Share this post and site on social media