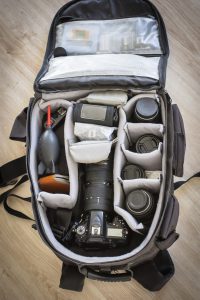 Living in New Zealand, where we get a ton of rain, I want the best waterproof camera bag on the planet.
With a budget in mind I spent a considerable amount of time researching both online and local camera shops locally to see what is available. 
Having spent so much time on this I thought someone else may benefit from my research so here is what I found.
You'll love the bag I decided on .
---
The Best Waterproof Camera Bag
Product: Zecti Waterproof Canvas Professional Camera Bag (Backpack)
Price: Under $65.00
Price source: Amazon.com
Material: Canvas
Dimensions: 16″ x 12″ x 7.5″
Weight: 1.7 Kg (3.74 lbs)
Color: Green
Package Dimensions: 4″x 4″x 26″
Gender: Male and female
Warranty: 18 months replacement or refund for defective product with shipping included if in same country.
Rating: 9.4 out of 10 (Based on 245 customer reviews on Amazon who give and average of 4.7 out of 5 stars).

---
Zecti Waterproof Camera Backpack Overview
To be honest I had never even heard of this brand before – but then living in little old New Zealand that isn't surprising. With a population of around 5 million our entire country is smaller than a lot of cities so we tend to only get the big name brands here.
What I like about this bag:
The backpack looks and feels comfortable. This is confirmed by the many positive reviews that refer to the excellent padding on the straps and on the back of the bag. They've done their homework and provided excellent padding at all the pressure points making wearing of the bag so much more comfortable for you.
The build quality is exceptional. As one reviewer mentioned he had taken his bag on Safari and despite some fairly rough treatment it still looks new and has retained it's shape after some fairly rough handling. Even though you may not plan on treating it rough but it is good to know you don't have to baby it.
Reinforced with a solid hard base – this provides additional protection against jarring when placing the bag down and from external scratches and adds an extra bit of protection for your expensive equipment. That's a nice little touch.
Ample room for a lot of camera equipment. More than enough room for one camera body (they claim it will take up to 3 bodies) and 4 lenses. The top compartment comfortably accommodate 2 Yongnuo flashes and  a large filter pouch as well as spare cards, battery with extra room for all the other small things us photographers carry.
Back entrance to the camera equipment provides added security. I have always like the idea of access being bit difficult for the bad guys, especially when traveling on crowded subways etc. With all the bumping and jostling one needs to be extra alert and the rear access gives a lot more security.
Has a sling feature for access while still on your body. This looks like a great feature for that lens change where you don't want to totally remove the bag. By removing your arms from the shoulder straps you can sling the bag around your waist (with waist strap engaged) and use the bag out in front of you.
Room for a 13″ laptop. Who doesn't carry a laptop these days? But even if you don't this section is perfect for your manuals, magazines and notebooks.
Room for a tripod to be attached on the sides or on the bottom. Carrying a tripod on hikes can get monotonous and heavy. Having the weight born on your shoulders makes it a lot easier and therefore more likely that you will actually take your tripod and not leave it at home.
The backpack is waterproof and comes with a raincoat too. Good enough even for New Zealand weather.
Complies with "hand luggage" requirements when traveling. Need I say more?
The look. It's different and stands out from the rest of the crowd while not screaming "expensive camera equipment!" and therefore less likely to attract attention.
No animals were hurt in the making of this bag! Made from strong durable canvas it's great to know that no animals were used in the manufacture of this bag.
The Price – really hard to believe that this much bag, with such a high quality finish, can be sold at this price.
Top seller. One last thing is it is a "top seller" and one of "Amazon's Choice" products.
---
What's Not to Like – is it perfect?
All the reviews I read were from "verified buyers" – something I place great emphasis on.
Two of the reviews were negative and pertained to:
The stitching coming apart shortly after purchase. However with an 18 month replacement or money back guarantee you're pretty much covered if this happens to your bag. It certainly doesn't seem to be a latent problem and this seems to have been an isolated occurrence.
One reviewer struggled with putting the dividers in but doesn't say what the issue was.
A couple of users pointed out that the bag is quite heavy.  This is understandable as it is made out of canvas and not the artificial material most bags are made out of these days. I guess the material adds to the security and the weather sealing and needs to be taken into consideration. I decided that it was worth the extra pound or so and I would soon get used to it.
---
Not Just a Bag, it's an Investment
The Zecti waterproof bag is more than just a bag.
It is long-lasting and provides security and protection for my expensive equipment all while looking rather cool and modern and totally different from the standard camera bag.
All at a very affordable price.

And as a bonus … I'm going to be the hippest guy at the camera club – I bet they all ask where I got it.
---
How Much Space Do You Need?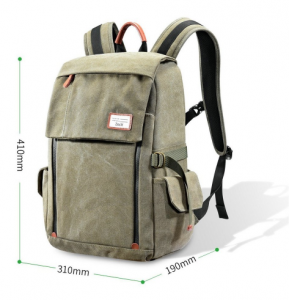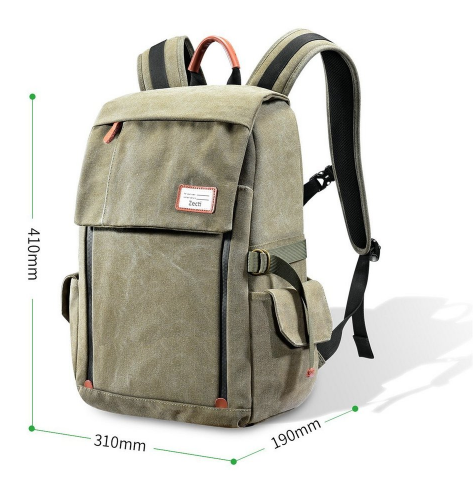 Before worrying about the price or the waterproofing it's important to know if your new bag will accommodate all your gear and have room for future purchases (photography being what it is and photographers being the way we are).
It's Ordered And on It's Way 
That was an easy decision to make and I cannot wait for it to get here – although being in New Zealand I will have to. 
I am sure it will be worth it. 
Let me know what bag you have – why you bought that particular one, what you like (or dislike) about it and what you would buy today if you were in the market.
 I love getting feedback from my readers.
Learn more about the Zecti Waterproof Camera Bag – and find out what others have to say about this amazing camera bag.

---
The Top Three Best Waterproof Bags
When setting out to replace my current bag I needed to establish what it was about my current bag that wasn't meeting my needs and what I needed.
The first thing I did was note the dimensions of my existing bag – I would need something at least as big and probably a slight bit bigger.
My bag has lost it's shape and strength over a fairly short period of time and with not much use.
Because of the loss of shape and structure the bag gets fairly uncomfortable after a few hours and tends to ride downwards on my back.
Strapping a tripod to it was impossibly uncomfortable, getting worse as the day wears on.
I ended up deciding I had four minimum requirements.
A specific minimum size – 410mm x 315mm x 130 mm (16″ x 12″ x 5″).
Had to be sturdy and able to maintain that outer strength with continued use.
Had to be waterproof or at least water resistant as I always add a waterproofing treatment of my own.
Specifically designed for a photographer with adjustable compartments
And then there were the features that would be nice to have:
Something different.
Lightweight.
A sling option for quick access.
An acceptable price – I accept that cheap is often the expensive option.
Now where to start looking?
I started with a well-known brand – Lowepro, available here in New Zealand and something I was familiar with. From there I started looking at different bags and got to like the idea of something that didn't "look like a camera bag" (IE not black!)
It came down to the following three bags:
Zecti Waterproof Canvas Professional Camera Bag (Backpack). This is the one I liked the most. At under $65.00 plus $44.00 for shipping it is outstanding value for money. Seems plenty big enough and I just liked the look of it. It certainly doesn't shout camera gear!
Virtually all the reviews are 5 star and the bag appears to be able to take some serious punishment (although I do not throw my gear around). Water resistant to boot!
It's made from canvas and, as an animal lover, I am glad it has no leather in it – that aside I find leather gets really heavy when wet. My full review (based on extensive research) follows below.
National Geographic NG A5270 Rucksack. This looks like a fantastic bag and has nothing but 5 star references. Hard to turn it down at $99.00 (plus $52.00 for shipping) but the bottom section access worried me a just a little bit from a security point of view. It may also be a wee bit small for all my gear.
Looks like a great bag though and may be your preferred choice.
I also did some extensive research on it and you can read all about it from the link at the bottom of the post.
Lowepro ProTactic 450 AW Camera Backpack – more or less what I was after but not weather sealed. It does come with a raincoat. Retails from Amazon for around the $165.00 mark which I found acceptable but needed to add $58.00 for shipping. Still good compared to buying in New Zealand.
In the end I decided against it mainly because it looked too much like a camera bag and after all my research I wanted something that looked different and didn't shout "CAMERA GEAR – STEAL THIS!"
It's a great bag though and I will put a link to what I learned about it at the bottom of this post.
What's in my Current (old)  Bag … 
Camera Body: Nikon D7100
Lenses:
Nikon AF Nikkor 50mm f1.8 D
Nikon DX AF S 35mm f1.8 G
Sigma EX 10-20 mm f4-5.6 DC HSM
Tamron SP Di AF 90mm f2.8 Macro
Nikon ED AF Nikkor 80-200mm f2.8 D
Speed-lights: 2 x Yongnuo YN560 IV
Flash Controller: Yongnuo YN560 – TX
Off Camera Flash Receivers/Remote Triggers: 4 x Yongnuo RF-603N
Filters: 1x pouch with circular ND filters and 1 polarising filter, 10 stop Lee Filter ND filter with NiSi mounting System and one 2-10 stop circular Syrp filter with step down rings.
Miscellaneous: Giotto Rocket blower, lens pen, lens cloths, spare Nikon battery etc.
All in all quite a bit of equipment and quite heavy although I seldom carry the speed-lights with me when out and about.
---
Do Not Store Your Camera in Your Bag!
So you have the best waterproof camera bag on the planet – great.
But it is not the place to store your gear as bags sweat and sweating creates humidity.
Think about  it – if water can't get in it isn't going to be able to get our either.
Remove your gear – clean and dry it throughly and then store in a cool dry environment.  A camera dry cabinet is purpose built for this and is an excellent storage place.
I love the fact that with a dehumidifier all my camera gear is always in one place and not scattered all over my office and desk as it used to be.
My dry cabinet is one of the best photography purchases I have ever made.
Share this post and site on social media