I thought a couple of gift ideas for those struggling with what to buy the photographer in their life would be useful – I know that buying for a photographer can be hard.
What follows is my list of 7 Best Gifts for the Photographer in your life – all of these can be found on the pages of this website with links of where to view and buy them.
The idea of a top-7 gift list came about earlier this week when I was writing about a particular product that every photographer would love – a real "fail-safe" gift.
With Christmas fast approaching I just know that there are a ton of people out there who would enjoy a list to guide them.
And then of course there are always birthdays to shop for.
Enjoy!
Well Intended But Not Useful Gifts ...
The only one thing worse than receiving a gift that is not going to be used is …
giving a gift that is not going to be of any use.
Don't get me wrong ...
We all appreciate gifts and it is the thought that counts.
But let's be honest here …
We've all received a gift and struggled through an acceptance speech.
Useless photography gifts are those gimmicky type gifts like lens mugs – pictured right. But some people love them – I don't.
I've received two of these lens mugs – both Canon whereas I shoot Nikon.  No big deal right?  Wrong!
One ended up as my pencil holder and the other was given to the Salvation Army unopened. 
If you really want to give a gimmick and have no idea on what your photographer will like I have you covered in my #1 suggestion below – it's foolproof and will be appreciated.
And it covers all budgets!
Top 7 Best Gifts For a Photographer
I have not broken these into specific budgets – the first gift covers all budgets, but have given a price indication of what you can expect to pay for them.
The price indication is based on Amazon's prices at time of writing.
#1 Best Gift For All Budgets
If you're really stuck for ideas or on a limited budget the easiest solution is to let the photographer choose for themselves.
You don't know if they are a Canon, Sony, Nikon or Fuji fan …
No idea what lenses they have or want or currently have …
Don't know what a tripod is …
What size camera bag would they like?
Would a flash be suitable?
Absolutely NO PROBLEM!
The easiest of all solutions is to give them a gift card.
This can be from your local brick and mortar camera shop, most online camera retails or, best of all …
from the largest and most trusted online retail outlet on the planet.
With over 550 million products to choose from an Amazon gift card is an ideal gift to give anyone – let alone a photographer.
With gift cards ranging from $5.00 up to any amount, let them choose what they want and you can relax in the knowledge that they have something they appreciate and will use.
And who knows they may even select something gimmicky.
A few clicks of the mouse and that difficult present for the photographer in your life is done.
Kick back – enjoy a glass of wine.
A Gift Voucher is a perfect gift for a photographer!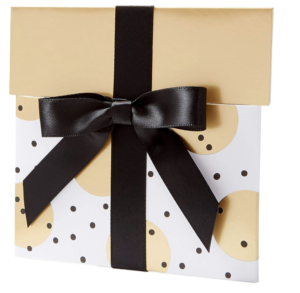 Best Gift #2 ($150.00- $300.00)
Guaranteed to be a hit!
This is the gift of all gifts for every serious photographer with expensive gear and something they are highly unlikely to have.
You can score some big points here …
Lenses and cameras are delicate items and need careful handling.
They also need careful maintenance and storage – so what better to give a photographer than the perfect storage unit to protect his equipment when not in use?
Prone to getting fungus from moisture in the air cameras and lenses, in particular, need to be stored in a cool dry environment.
If you can read more about this here – Best Camera Dry Cabinet.
Although they could get this with a Gift Voucher the arrival of a Camera Dry Cabinet under the tree shows that you really care and know what they will just love!
Trust me on this – you won't go wrong.
Best Gift #3 (Under $100.00)
Every photographer loves a great camera bag; and if it is waterproof all the better.
I could be going out on a limb here because you really do need to know what gear they have in order to get the right size bag – but a bit big is better than too small.
Selecting the perfect bag can be difficult but here is an article I wrote which you might find useful – Best Waterproof Camera Bag.
Of course you could always go for a Gift Voucher and add that you "thought they might like a bag but weren't sure which one to select."
Pictured right is the very model I bought after doing some extensive research.
I've had it over a year now and am very happy with it.
Best Gift #4 ($200.00 - $300.00)
A tripod is an essential bit of equipment that every photographer will want and should have.
There is a wide range of tripods to choose from.
Lightweight travel tripods
Studio tripods
Hiking tripods
Desktop tripods 
The list is endless.
Selecting a tripod for a photographer can be fraught with mistakes unless you know exactly what they shoot.
Whatever you do don't go cheap as cheap tripods tend to collapse with expensive gear on them – and we don't want that on out conscience.
I would suggest a gift voucher with a card saying "Buy yourself a tripod."
For what it's worth I like the Manfrotto 055 aluminium tripod pictured right as an all round, very reliable tripod from a company with an excellent reputation.
Best Gift #5 (Under $50.00)
Now here is a gift that will surprise and delight.
A decent camera strap.
I don't know what it is about camera manufacturers that they feel it is okay to supply a really horrible thing strap with a decent camera.  You'd think (expect) that for the price we pay for these high-end machines a good solid strap could be included.
A decent strap makes the world of difference when walking around with your camera – the thin ones they supply that hang around your neck soon become unbearable.
I've had a BOSstrap sling strap for about 7 years now and even with extensive use it's still as good as the day I bought it.
This is a gift that is guaranteed to please.
Best Gift #6 (Under $100.00)
Now this is a really cool gift – especially for the photographer who is a bit frustrated with his images.
Get them a good online course to improve their photography.
A course that is sought after and well spoken of.
I know from my own experience that at one point I hit a plateau and couldn't seem to break through to the next level – nothing changed until I took a course. 
Suddenly I saw the light and my photos started to improve dramatically.
You can find courses all over the Internet but the one I recommend is the 31 Days to Becoming a Better Photographer from Digital Photography School.
Best Gift #7 For Cold Weather Photographers ($150.00 - $200.00)
Well insulated gloves for photography are almost impossible to come by.
The problem is inevitably one of functionality – it's ridiculously difficult to select settings and press individual buttons with thick gloves on.
The alternative is even worse – operating without gloves and having frozen hands and frost bitten fingers.
Seriously …
I hate my digits getting frozen and the fact that I suffer from bad circulation makes it even worse.
But I have some very good news …
The Austrian based Heat Company have developed a glove specifically for Photographers!
They are the world's best cold weather gloves by far.
Rather than have me rehash everything please read my full review on the the Heat 3 Smart Gloves.
Something For Your Girlfriend perhaps ...
One thing a girl can never have too many of is bags.
Why not consider getting your girlfriend a cute camera bag that she will love?
Let's face it -a cute (and different) camera bag will be a hit.
Take a look at her current camera bag if she has one, easily done without giving the intended surprise away, to see if …
She could do with a new bag and
What she keeps in her current one so that you get the right size replacement.
Then head over to my cute camera bag post and see what you can find to surprise and delught her.
So there you go all your shopping done and dusted from the comfort of your couch.
And what's even better is that each of these 7 gifts I have recommended here is guaranteed to be a big hit with the photographer in your life.
Please let me know what you think of these gifts and in particular let me know how they react when they receive them.
Leave your comments below.
Until then …
Share this post and site on social media