For some years now I have owned a Bos Camera Strap (BosStrap) and am very happy with it. I think it's one of the best kept secrets in the photography world.
Let's face it the straps that come with cameras are horribly uncomfortable, often too short and, after a very short time, feel like they are cutting into your neck.
In this post I review the Bosstrap shoulder sling strap system – the one I have used for the past 4 years, and the one I recommend you consider if you are in the market for a more comfortable, better looking and more practical camera strap.
Product: BosSTRAP Camera Shoulder Sling Strap
Price: $47.85
Cheapest Place to Buy: Amazon.com
Material: Seat Belt Webbing
Thickness: 1.5 inches
Length: 64″  (Fully Adjustable)
Load Capacity: Tested to 100 lbs (comfortably supports gear worth $3,000, and more – see image right)
Weight: 4.8 oz. Holy Mackerel – how does anything so light safely support so much weight?
Package Dimensions: 7.5 x 1.9 x 1.3 inches (makes for light shipping – even to New Zealand)
Guarantee: 30 Day Money Back Guarantee plus a full 1 year warranty on defects.
My Rating: 10 out of 10 – seriously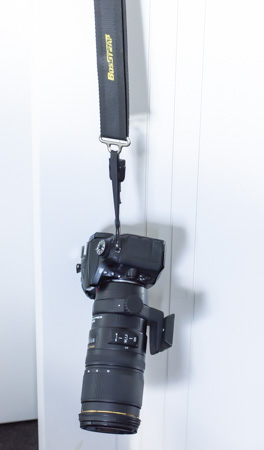 Bos Camera Strap ... the little known secret
BosSTRAP? – Never heard of it!
Seems not many people have and whenever a fellow photographer sees mine I get asked if it is a new brand just come on the market but in fact the strap has been around since 2010.
One thing that they are always surprised at is that is is secured at the lug and not the tripod socket.
I guess word about the BosSTRAP has been a bit slow to get out. The reason for that could be funding as the company was originally started by Tom Fama and as far as I have been able to ascertain he is still the sole owner. Maybe he doesn't have money to spend on advertising or maybe he has a pile of money and isn't too concerned.
Who knows?
And pretty easy to assemble. 
Once assembled you can be 100% confident it isn't going to accidentally fall off.
But let's get on with it and let me tell you more about the best camera sling strap system on the planet …
11 Unique Features ... eleven!
Designed by a photographer, for photographers, the Bosstrap appeals to me because:
Simple Effective and Comfortable. Exactly what you are looking for in a decent camera strap.
A two part system. There are 2 parts to the BosSTRAP system.  The first being the Bostail that connects to the camera lug and then the strap that is connected to the Bostail. With this system the camera is 100% secure whilst allowing a quick release if needed – such as when connecting to a tripod (see below).
The Bostail can be used as a wrist strap. Simply disconnect the main strap from the Bostail and use the Bostail as a wrist strap. Useful for studio work.
Made from strong Seat Belt webbing. Seat belt webbing is seriously strong stuff! When you consider the forces that are applied to it during a car accident, you can appreciate that it is over delivering on the ability to keep your camera safe. With the 1½" width of the strap you are assured of both comfort and strength. In the end the security of your camera comes down not so much to the webbing but to the connections …
Secured directly on to the camera lug. Unlike most other sling straps the Bosstrap is not secured to the camera via the tripod socket which means that there is no possibility of the thread undoing and the camera falling free – a major problem with some better known brands (we won't mention names).
The BosSTRAP fits all camera models that come fitted with factory fitted eyelits, with split rings, such as those used by Nikon or the slotted lugs that come with Canon models.
Access to the tripod socket is not impeded. It doesn't matter if you do field work or studio work with this strap you can attach the camera to your top rated tripod before removing the strap (using the nifty, but secure, quick release Bostail), hence providing an additional safety feature when it is most needed.Once the camera is secured to the tripod you can safely remove the strap. The reverse procedure is followed after using the tripod.For straps connected by the tripod socket you have to undo your strap, secure the quick release plate to the camera and then attach it to the tripod – all while your camera is unsecured!
Can be used with your tripod quick release plate attached. My quick release plate is permanently on my camera and does not impede the strap or any functions in any way.
The camera remains level when on a flat surface. Because the strap is not connected via the tripod socket you can place your camera on a level surface and it will stay level.
No padded shoulder strap required. It doesn't matter what other manufacturers tell you those extra padded sections that supposedly provide more comfort are often more of a hindrance because they continually move. With the 1½" webbing no additional padded strap is needed and nothing will move. As far as comfort goes – well, how comfortable is your car's seat belt over your shoulder?
Fully adjustable to suit your build. It doesn't matter how tall, or short, you are the 64″ strap allows for full adjustment. When you first set it up adjust it to a comfortable length where it hangs at the same level as your right-hand. It is then a simple and quick movement to bring the camera up to your eye.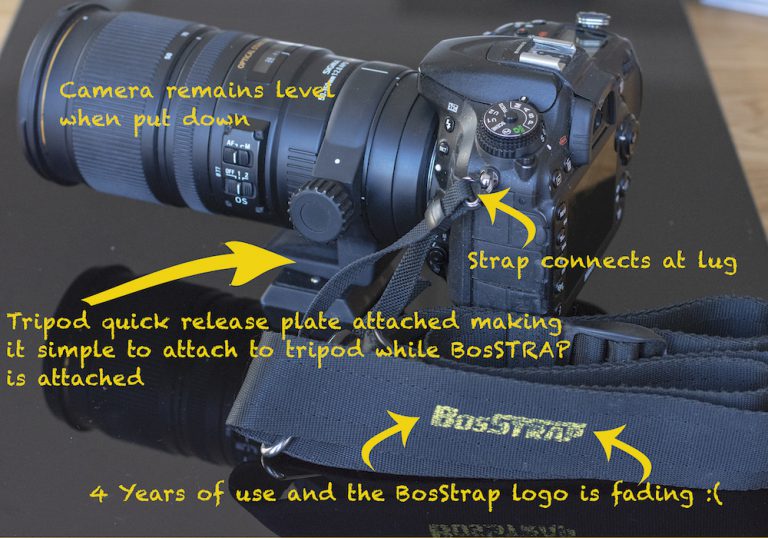 Cheap As Chips ... but will it protect your expensive gear?
The point of using a sling strap is threefold.
To ensure your camera is 100% secure and will not accidentally drop – tick
To provide quick access into a shooting position – tick
Comfort – tick
What you don't want in a Camera Strap.
Is a system that has complicated connections to slow you down. Or worse, connections that have the potential to increase the risk of your camera falling off while you are trying to undo them.
A system that works itself free during the normal course of photography as happens with so many straps that connect through the tripod socket.
An uncomfortable strap that needs continual adjustment because the supposed shoulder pad keeps shifting.
A system that impedes access to a tripod – unless of course you never use one (in which case we need to talk!)
What I Love About the BosSTRAP Camera Strap
There are three things I really love about this strap.
It is extremely comfortable.
I do not have to undo it to secure it to the tripod or remove it from the tripod.
It sits exactly at the height of my right-hand making me the "fastest draw in New Zealand"
It is real value for money!
OK that's 4 – so call me a liar.
What's Not To Like About The BosSTRAP
The shortest ever paragraph in the history of me reviewing products …
There is nothing to "not like" about the BosSTRAP.  You can even get it in any colour you like – provided that's black!
BosSTRAP ... hands down the best kept secret in Camera Sling Straps
Why so few people know about the BosSTRAP remains a mystery to me.
I can only put it down to aggressive marketing by other, more well-known, brands.
That really is a pity as the BosSTRAP is a fantastic strap that I have been using for over 5 years with great confidence and without a single regret.
I would probably never have heard of it if I hadn't won one in a photographic competition – ironically at the time I was in the market for a sling strap and I probably would have bought a Black Rapid strap but I didn't like the idea of my strap being attached via the tripod mount.
I guess there may be some truth in asking the Universe for what you want and it will deliver because within a few days I heard that I had won a BosSTRAP and discovered to my delight that it attached via the camera lug.
If you currently have your camera around your neck using the strap that came with it believe me you are in for a very pleasant and comfortable experience.
This will change your life from being one that is uncomfortable, but necessary if you want to take photos, to one that is an absolute pleasure.
The Final Word on the BosSTRAP ... definitely worth considering
The next step is for you to  head over to Amazon to read more about the BosSTRAP and in particular the reviews from "verified buyers" – photographers who have bought and use the BosSTRAP.
You can do that by clicking on this button …
You can thank me later for letting you in on the best kept secret in camera straps – but shhhh ….. don't tell a soul.
Oh and when you get your BosSTRAP could you please let me know in the comments below how much you love it?
Share this post and site on social media