With so much advice and so many models to choose from the newbie photographer will no doubt struggle to decide what is the best camera for a beginner photographer in 2020.
In this post I will cut out all the hype and focus on what's important by getting straight to the point of what I believe is a camera that will suit the beginner photographer without breaking the bank or being so difficult to learn that it discourages progress.
The #1 Choice for The Beginner Photographer - Nikon D3400
Nikon D3400
Best Place to Buy: Amazon.com
Megapixels: 24.2
Sensor: Expeed 4
ISO Range: 100 – 25600
Frames Per Second: 5
Video Resolution: 1080/60p
Weight: 2.6 Lbs
Dimensions: 2.95 x 4.88 x 3.86 in
Colour Options: Black or red
Warranty: Nikon's standard 1 year warranty with the option to purchase an extended 2 year warranty
Price: Varies depending on bundle selected.  Check Amazon for specials.
My Rating: 9.5 out of 10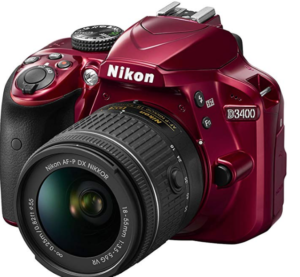 10 Specific features That Make the Nikon D3400 A Great Starter Camera
There are a number of great features that come with the Nikon D3400 – features that make this an outstanding camera for the new photographer.
The following features are what make the D3400 an ideal starter camera:
A very compact and lightweight camera. Even with 2 kit lenses (one of the options when buying) you will find that the Nikon D3400 doesn't require a big back pack and a mule to cart it around. It is so light and unobtrusive that you will hardly notice it – even after a full day of photography.
Superb build quality. This camera feels like the solid camera it is. Some cameras look and feel like inferior products, almost like toys.  With the Nikon D3400 the exact opposite is true it is a good looking and well built camera.
A fantastic battery life of well over 1000 photos. While a spare battery is always advisable the chances of you ever needing one with the D3400 are pretty slim. Having a battery that won't die on you half way through the day avoids that awful experience of running out of power when the light or action is at it's best. I do advise taking a spare battery though but chances are with the D3400 you won't be needing it.
Unique built-in guide mode that teaches you how to use the camera, from within the camera. Manuals have often been boring, technical and difficult to understand. With the Nikon D3400 the guide eliminates this frustration and is a great learning tool. You will love it!  And you will especially benefit from being able to learn the intricacies of your camera in a visual way while using it.
Five frames per second (fps) of continuous shooting. Great for fast moving action where you need to make sure you "get the shot". You're going to love the 5 fps the D3400 brings to the party. Your friends will be amazed at how you captured the exact moment!
Nikon's renowned auto-focus system is standard with the D3400. With 11 focus points it's a pretty snappy auto focus (even in rapid shooting) that will serve you well in almost every situation including in low light cases. You certainly won't need to worry about extreme single point focusing and therefore allowing you to concentrate on other aspects of your photography.
No optical low-pass filter. Technical stuff that makes for better picture quality. Previously photographers sent their cameras in to have the low pass filter removed at a cost. With the Nikon D3400 it comes standard and results in much sharper images.
Snapbridge WiFi transfer – this is an app that needs to be downloaded to a compatible smart device. It enables you to instantly transfer images to your smart device so that you can share them with friends directly or over the Internet. "Hey look Joe – this is my view, RIGHT NOW!"
Expeed 4 sensor – WOW! One of Nikon's top sensors in a smaller model. This sensor is the reason for the high ISP range (100- 25600) of the camera. Making for superb image quality in low light situations. This is an amazing sensor previously found only in the bigger D5XXX series and a great reason to get the D3400 even without any of the other great features.
Simplified external buttons. When you're starting out in photography the last thing you need is a bunch of buttons that confuse more than assist in a camera. There is enough to learn in terms of composing, focusing and ensuring the correct exposure before pressing the shutter without having to worry about what other buttons are for. The Nikon D3400 makes thinks really simple for you.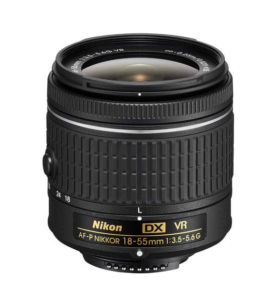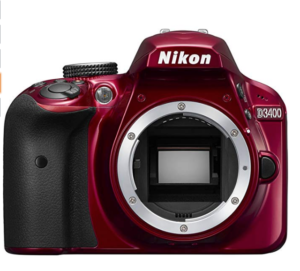 Plus 3 Practical Bonus Features ...
Easy Navigation – for changing most settings navigation is very easy using the "i" (information) button on the rear of the camera and selecting options using the multi-selector wheel. This allows for very quick and easy changing of individual settings.
Large rear screen – makes reviewing your settings and your images so much easier, even in bright sunlight.
Deep set grip – an outstanding feature exclusive to Nikon. The deep set grip provides a great sense of security and you can really hold on to this camera without fear of it slipping out of your hand.
Ease of Use and Easy to Learn
The Nikon D3400 was designed with the newbie in mind.
Nikon have taken the trouble to listen to their market. In the D3400 they have produced a camera that takes high quality images (a Nikon standard) while providing the user with an easy to use format that is simple to navigate.
The combination of external buttons, the built-in guide mode, and availability of more complex menu options makes this a camera that the new photographer can grow into without getting frustrated.
Many of the Nikon D3400 owners have commented that they don't see any need to ever upgrade and that says an awful lot about this little beauty.
For those that do upgrade the transition to the bigger cameras is smooth and seamless thanks to the experience of using the D3400 (and it makes for a great second camera if you do upgrade).
The Nikon D3400 Will Appeal to
The first time DSLR buyer.
Mom and pop going on holiday who want a light, versatile, easy to use camera that takes awesome photos without breaking the bank.
The student who is taking up photography at school/college.
Anyone who wants a great camera that is not over bulky
The photographer on a low budget with high standards
Bloggers – especially traveling bloggers, "vloggers" I think they call them.
24.2 Megapixels
ISO range – A native range of 100 – 25600 This is even better than some of the D3400's bigger cousins such as the D7100 which has a native ISO range of 100 to 6400.
Maximum Frames Per Second – 5 fps. This is really fast for a camera of this level
No Optical Low-Pass filter. The lack of a low pass filter makes for sharper images in camera without the neccessity of having to do this in post processing.
Shutter speed range – 30 seconds to 1/4000 sec
Expeed 4 sensor.
Snapbridge connectivity for easy transferring to other devices.
Don't Just Take My Word For It
For more insight from real users of the Nikon D3400 I find the reviews and comments from 'verified buyers' (people who have actually bought and used the camera) to be the best source for real information.
It's a tactic I have used many times to make an informed purchases and a method that has, on occasion, saved me some serious money.
Why not head over to Amazon and read up some more real life reviews to confirm that the Nikon D3400 is a great little camera that packs a big punch?
Click the button below to go to Amazon customer reviews – see what the verified buyers have to say about the camera I rate as the best camera for a beginner in 2020 (and probably for a while to come).
And as always let me know your thoughts in the comments below …
Share this post and site on social media