In an earlier post I explained why you need a good tripod.
In this post I  review the Manfrotto 055 Aluminium tripod which I consider to be one of the best on the market and a great investment that will last you for years, if not the rest of your life.
Manfrotto is probably the leading brand in tripods and the 055 is reputed to be one of their most sought after tripods.
Let's see why …
Product: Manfrotto 055 Aluminium Tripod
Price: $219.99 (with free carrying case)
Cheapest Place to Buy: Amazon.com
Material: Aluminium
Maximum Height: 70.3″ with centre column extended
Maximum Height: 55.9″ with centre column down
Minimum Height: 3.9″
Closed Length: 25.8″
Load Capacity: 15.4 Lbs
Weight: 5 Lbs
Package Dimensions: 4″x4″x26″
Guarantee: Warranty subject to authorized dealer's Terms and Conditions, underwritten by Manfrotto
My Rating: 9.5 out of 10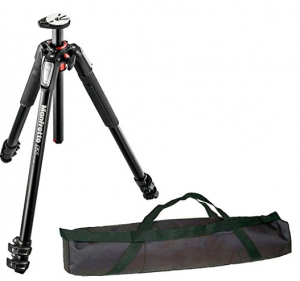 Superb Italian Engineering
Italian engineering and manufacturing has been at the forefront of high-end luxury vehicles such as Ferrari and Lamborghini since forever and that same class of elegance, functionality, reliability and solid strength can be found in the Manfrotto Tripods.
The Manfrotto 055 Aluminium Tripod is a beautiful workhorse made for functionality, ease of use and years of reliability with the following features:
Famous multi-functional 'Q' centre column that allows for adjusting the centre column to virtually any angle.
This allows for a multitude of uses such as in macro, documentation photography, extreme low angle shots and photographing from unusual situations where one might not normally be able to use a tripod.
Based on firsthand experience, although not required often, the ability to use a tripod with multiple angle options is really cool to have when needed.
Very tight lock for when the center column is extended. With a lot of camera tripods the extension of the center column becomes a bit dodgy as the center of gravity tends to shift upwards and create a feeling of imbalance. This is not the case with the Manfrotto tripods and certainly not with the 055 aluminium tripod under review here.
There are three sections to each leg. This has long been acknowledged as the perfect number for stability and strength. Who am I to argue with Italian engineers?
Quick release catches that are easy to use (basically a one-handed operation) yet lock the legs very securely. There's nothing more frustrating than trying to release legs and lock them with ultra loose or stiff releases.
Two of the legs are fitted with foam-like material to keep the hands warm. If you shoot in extremely cold weather you will know how cold the legs can get and how uncomfortable they are to handle. A simple but great feature
The strong corrosion resist aluminium finish is a work of art while the non-aluminium parts (threads etc.) are all made of the highest quality stainless steel. You'll never have to worry about rust or concern yourself that your Manfrotto 055 will ever look ugly.
You are able to fit your favorite head on to these legs as the fittings accommodate all brands of heads.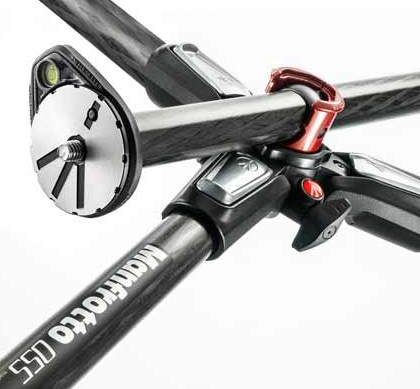 The Only Tripod You'll Ever Need - cheap is just not worth it!
The Manfrotto 055 is not a cheap tripod but it is the only one you'll ever need to buy – making it an inexpensive purchase.
The point of using a tripod is twofold:
To allow you to take hands free photos that are well focused. This could be for one or several images to be stitched together or processed as HDR. It could be for night photography or any other photography where a long exposure is required and where it would be impossible to hold a camera steady for that length of time.
The second purpose is to safely support your camera and lens. There is no point in having an expensive rig mounted on a cheap flimsy camera only to see the lot come crashing down. I would imagine it looks bad and sounds terrible. And to add insult to injury there would no doubt be no photo to show for it! Why anyone would put an expensive camera on a cheap tripod is beyond me.
I used to work in a camera shop and we often had customers come in a rush (always in a rush) wanting to buy a tripod for a particular event or weekend but not wanting to spend much – "just something that will do the trick".
I can recall on at least 2 occasions when customers returned with tales of woe of the tripod been blown over. 
The resultant expense and hassles of repairing or replacing the damaged was just not worth the imaginary savings.
While I am all for paying as little as possible I won't do so at the expense of quality. It's just not worth it.
There are hundreds of testimonials online stating the longevity of the Manfrotto range of tripods and the 055 aluminium is at the top of the list!
Rather than have me rambling on about reviews it's probably easiest if I include some of them here:
What People are Saying about the Manfrotto 055
And Even More Reviews ...
If you would like to see more reviews from people who have purchased and use this tripod on a daily basis.
Check out the latest reviews on Amazon …
Not Just a tripod - it's a lifetime investment
The Manfrotto 055 Aluminium tripod may seem to be a bit of 'overkill' for someone with a lightweight entry level DSLR camera and kit lens combo that weighs nowhere near the 15 pounds this can take.
That is very true but …
I can almost guarantee that person will one day upgrade to something more expensive and buy new longer/bigger/better lenses.
I say that because from my experience anyone looking to buy a tripod in the first place (and that includes you reading this) is probably intending to take their photography a bit more seriously.
Buying a tripod now that will last you for years to come is one of the best investments you can make in photography gear – second only to good quality lenses in my opinion.
What's Not To Like About the Manfrotto 055?
Not much as it turns out but …
I should think Manfrotto could come up with some decent packaging. Seriously such an amazing product basically lying loose in a crappy cardboard box? Surely they can do better.
The Manfrotto 055 Aluminium is too big and heavy for traveling (unless you are going on a dedicated photography trip) and tramping. For that I would recommend one of the smaller and lighter range. They're just as good but you need to be a tad more careful when using them as they aren't quite as sturdy.
Likewise if you're a tramper or into these long hikes up mountains. The weight will eventually tell – or it would on me at age 62! Unless of course you can hire a Sherpa (now there's a plan).
It's Conclusive …
The Manfrotto 055 Aluminium Tripod ROCKS!
Well not really as it is rock-solid but you know what I mean.
I have yet to come across anyone that has this model that is not 100% happy with it.
Last Word on The Manfrotto 055
If you have decided that the Manfrotto 055 aluminium is the one for you – the only decision now is where to buy it from?
 I have found that Amazon is the cheapest place on the planet, and they often have packages that are found nowhere else.
Not only are they well priced but Amazon also has it's full refund "no questions" asked policy so if that packaging plays up you simply send it back for a new one or a refund.
Don't forget to mention the packaging issue at the check-out..
Buying new photography gear is always an exciting experience for me – I'm sure it is for you too. 
Head over to Amazon today and check the latest price on this amazing tripod.
Could I ask you to give me some feedback once you have used your new Manfrotto tripod a couple of times?
Just drop a line in the comments below – I'd love to hear from you.
Until next time …
Some of the links within this post are affiliate links and I may receive a small compensation from sales purchased through these links.
Share this post and site on social media