With such a wide selection of trail cameras to choose from, whether for hunting, home security or fun – deciding on the model best suited to your needs could be both time consuming and downright confusing – so herewith a "Trail Camera Reviews" post for 2020.
I'd be lying if I said I knew everything about every model of trail camera out there. I should think that would be an impossible statement for anyone to make – wouldn't you agree?
To overcome this lack of knowledge I've based my list featured in this review on appraisals from real-life users. Customers who bought the models listed here and found the time to write reviews (both good and bad) about them.
There's the old saying that goes something like "You may have to kiss a lot of frogs before you find your Prince"
My aim is to save you having that sort of experience when looking for  the best trail camera for your needs.
But first …
Using statistics obtained from Amazon to make the list of top trail cameras each model listed had to have:
At least 800 reviews – in order to bring you the best result the more reviews a mode has the more accurate the results effect the performance/value etc. of that particular model.  
Only 10% – 20% of buyers ever tend to return just to leave a review.
800 reviews indicates that between 8000 and 16000 customers have purchased that model and a large percentage of them felt strongly enough about their purchase to return and leave a review.
The average rating had to be in excess of 4.0/5 stars.
People are more likely to complain, or write a bad review, than they are to write a "thank-you".
Consistently high ratings are a real indication of how good a trail camera is. 
No More than *10% of 1 Star ratings.
If a product had too many negative ratings my experience tells me that there is something inherently wrong with it. 
It is usually one of two things:

a) Badly manufactured or
b) Not meeting expectations as described in the marketing

Therefore any trail camera that had more than 10% of negative ratings was excluded.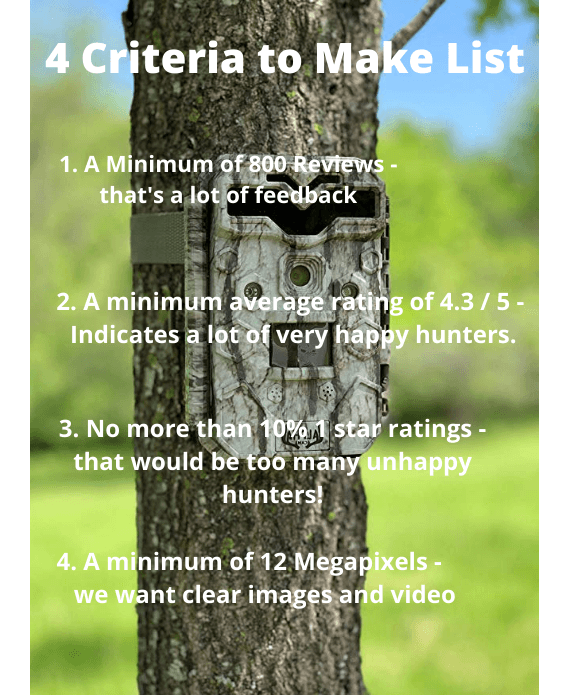 4. A minimum of 12 megapixels.
    While 8 mega pixels is acceptable for trail cameras (in daylight), 12 megapixels      is so much better.
    All the models listed here have a resolution of at least 12 megapixels.
    Is this adding unnecessary cost to your choice?
    Absolutely not – technology advances rapidly and with each advance prices tend to come down!
*10% Negative reviews may be considered to be a bit high and lenient on my part but as I said we are more likely to complain than we are to praise.  Under these circumstances I think 10% is acceptable.
See also my  comments on "What to Look for in a trail camera" further down.
Grab a coffee and enjoy!
7 Top Rated Trail Cameras for 2020
The following 7 trail cameras are listed in order of ratings out of 5 – they are not listed in order of recommendations.
The information supplied here is to give you an idea of their technical specs, functions,  popularity and prices.
I reveal my pick in "Final Word On Game Trail Cameras" at the end of this review.
If trail cameras are not your thing but wildlife photography is – check out this post on cameras for wildlife photography.
Victure HC300 Trail Camera

Specs:
Resolution: 20 MP / 1080p Full HD 
Image Transfer: Via USB connection
Range: 65 ft
Detection Circuit: 120°
Power Supply: 8 x AA batteries
Memory: SD/SDHC Card Class 6 or class 10 Max 32Gb
Trigger Sensitivity: 0.3 Seconds. Motion activated
Flash:  38 pc Infrared No Glow LED 
Screen: 2.0″ Color LCD
Weight:  1.3 Pounds
Water Proofing: IP66
Pros.
20 Megapixels.  High definition allows for better cropping and zooming in
1080p Full HD video
Good button layout that is easy to use
Easy to navigate menu and controls are on the front panel and screen
Good sound recording
Excellent sensitivity resulting in far fewer blank images
Highly customisable
Cons.
No remote access 
No WiFi
Requires a lot of batteries – but will run on only  4 for 2-3 months. The full compliment of 8 x AA will give you 5 to 6 months life.
Use lithium batteries for best results, especially in cold weather.

Specs:
Resolution: 14 MP / 1080p Full HD 25fps
Image Transfer: Via USB connection
Range: 65 ft
Detection Circuit: 120 °
Power Supply:  8 x AA batteries
Memory: Micro SD card up to 32 GB
Trigger Sensitivity: 0.5 second Motivation activated
Flash: 42 pc Infrared No Glow LED
Screen: 2.0″ Color TFT LCD
Weight: 1.1 Pounds
Water Proofing: IP66
Pros.
Durable strap
Good 24 hour after sales service
Lightweight and compact
Will work on 4 batteries
Large screen for programming and easy to read
Simple navigation buttons
Daylight time lapse
Video for up to 10 minutes
Customisable setting options
Cons.
SD card is flush mounted and hard to install and remove
Only has straps for mounting – no mounting plate
No place to lock and secure against theft
Not the greatest instruction manual
Specs:
Resolution: 14mp /1080p Full HD
Image Transfer: Via USB connection
Range: 65 ft
Detection Circuit: 120 °
Power Supply: 8 x AA Batteries 
Memory: SD Card class 10 up to 32GB
Trigger Sensitivity: 0.3 seconds with 3 trigger sensors
Flash: Low Glow Infrared 42 pc LED
Screen: 2.4″ Color LCD
Weight: 1.1 lbs
Waterproof: IP 56
Pros.
Good picture and video quality
Excellent night video
Very few empty frames thanks to the 3 sensors that detect movement and trigger the camera/video as soon as the subject enters the frame
Excellent battery life
Will support external 6v Power supply
Excellent value for money
Cons.
Card access – flush mounted and particularly difficult to remove – even with small hands
Mounting plate, while good to have, is a bit flimsy
Instruction manual could be much better
Specs:
Resolution: 12mp /1080p
Image Transfer: Via USB connection
Range: 65 ft
Detection Circuit: 120 °
Power Supply: 4 X AA
Memory: SD card (16GB recommended)
Trigger Sensitivity: 0.5 – 0.8 secs (single sensor)
Flash: Infra red
Screen: 2″ LCD
Weight: 14.4 ounces
Waterprrof: IP56
Pros.
Compact and small – fits in the palm of your hand
Fairly well constructed
External power port
Great for around the house/yard use
Cons.
Maximum recommended memory card is 16GB
Not recommended for the serious hunter who intends to leave it out for an extended time
You get what you pay for

Specs:
Resolution: 14mp / 1080P
Image Transfer: Via USB 2.0 connection
Range: 65 ft (users report it detects up to 30 meters)
Detection Circuit:120 °
Power Supply: 8 x AA batteries with support for external power supply of 6V
Memory: Class 10 SD card with 32GB
Trigger Sensitivity: 0.5 secs
Flash: No Glow Night vision with 44pc LED
Screen: 2.4″ Color TFT LCD
Weight: 1.32 lbs
Waterproof: IP 66
Pros.
Solidly Built
Excellent video and picture quality
Camouflage is excellent
Resolution and on screen font size is big and easy to read
2 Tripod/mounting bracket options with ball joint
Very very good all round ratings where buyers rave about this camera as being the best value for money.
Click the button below to see amazing reviews from Amazon verified purchasers
Cons.
The bad reviews on this model seem to stem from the odd lemon that occurred every now and again.
This can happen with any product and if you buy one of these I suggest you test it thoroughly during the free return period
The very few negative reviews seemed to come from buyers who were expecting a Rolls Royce for this incredible price

Specs:
Resolution: 14 MP / 1080p Full HD
Image Transfer: Via USB connection
Range: 75 ft
Detection Circuit: 120 °
Power Supply: 8 x AA Batteries with support for external power supply
Memory: SD card up to 32GB
Trigger Sensitivity: 0.3 sec with 3 PIR sensors
Flash: 42 Pcs Low Glow infra red LED
Screen: 2.4 " color TFT LCD
Weight: 1 lb
Waterproof: IP56
Pros.
(Note there is a newer version of this model, the Toguard H85 – that is worth checking out)
Easy set-up and operation that can be done without referring to the excellent instruction manual
Superb image quality in both stills and video – reported by many uses as being the best they have seen
Long detection range
Solidly built and protected against the elements and damage through dropping or bumping
Retains date and time settings even during battery changes.  Saves on having to re-enter this information
Long battery life
The revised H85 has improved on the cons l listed alongside and is worth looking at. The Toguard H85 has a 5 star rating but not enough reviews to qualify for this list.
Cons.
Audio is a bit weak
Video playback arrives set at "fast" playback
Night vision shots are often underexposed
Victure HC200 Trail Camera

Specs:
Resolution: 12 MP / 1080p (15fps)
Image Transfer: Via USB connection
Range: 65 ft
Detection Circuit: 120 °
Power Supply: 4 or 8 X AA batteries and support for external power supply
Memory: SD card class 6 or higher up to 32 GB
Trigger Sensitivity: 0.5 sec
Flash: 26 pcs LED (940nm) no glow infra red technology
Screen: 2.4′ Color LCD
Weight: 1.15 lbs
Waterproof: IP66
Pros.
Easy to set-up and operate
Excellent video and images
Time lapse option
Image stamp with moon phase, temperature, date, and time
Works extremely well in sub zero temperatures (with Lithium batteries)
Solid build using good quality materials
Cons.
Sadly the vendor entices positive reviews with the offer of a gift.  This creates a negative perception
User manual could be improved on
Two Exciting Newcomers to Watch
Two trail cameras that didn't meet the criteria in terms of number of reviews received but …
Keep an eye on these two models I think they are going to prove a good buy.
Sereer Technology Trail Camera

Specs:
Resolution: 16 Mp / 1080p (30 fps) Full HD 
Image Transfer: Via USB connection
Range: 65ft
Detection Circuit: 120°
Power Supply: 4 or 8 AA batteries
Memory: SD card (up to 32 GB)
Trigger Sensitivity: 0.2 sec
Flash: 42 pc Infra Red LED Infra Red
Screen: 2.4″ TFT Color LCD
Weight: 1.25 lbs
Waterproof: IP 66
Pros.
Works in a wide range of temps from -20° to  6o°
Up to 8 Months battery stand by time
Aesthetically pleasing and functional
Controls very easy to operate
Excellent image and video quality
Durable
Images viewable on LCD screen
Select between 1 and 3 Sensors 
Cons.
At time of review there were no negative comments
Alphacam 30mp Trail Camera

Specs:
Resolution: 30 mp / 1080p (30fps)
Image Transfer: Via USB connection
Range: 90 ft motion detection with 100 ft IR flash distance
Detection Circuit: 140° – widest under review
Power Supply: 8 x AA batteries with support for external power supply
Memory: SD Card up to 512 GB
Trigger Sensitivity: 0.2 secs with 1 sec recovery rate
Flash: 6 High power IR LEDs
Screen: 2.4″ Color LCD
Weight: 1.15 lbs
Waterproof: IP 67 – best in industry
Pros.
30 MP – highest under review!
30 Month extended warranty – longest under review!
Ultra Strong waterproof case and design
Up to 512 GB memory card for storage – most under review!
Outstanding after sales support from tech team
90 Ft motion detection – furthest under review!
0.2 sec trigger – fastest under review!
IP 67 waterproofing – best in industry!
30 Month stand by battery life – by far the best under review!
Up to 9 images per trigger
Ultra fast motion flash ensures no blurry night time images
Cons.
Does not work with alkaline batteries, despite vendor's sales image showing them – use lithium
On/off switch is a bit tight
Ten Features to Look For in a Trail Camera
When looking for a trail camera we all want one thing: a camera that works as intended.
Some work better than others.
Some rely on the brand name (hey and those are popular too but do they work any better than lesser known brands? That's up to you to decide.
All the trail cameras listed here work as intended.
So let's touch on what to look for in a trail camera.
Sensitivity
Whether you are using a trail camera to capture game, intruders or burglars you can be certain they are not going to switch the camera on for you!
You need a camera that will sense their movement at the earliest possible stage and activate the camera or video.
Camera's with 3 sensors provide a much greater success rate than cameras with a single sensor as they capture anything that enters the detection circuit as early as possible.
Detection Circuit Area
The detection circuit area is determined by how close your subject your subject needs to be (the range) and the width of the field of view in order for the sensors to trigger the camera's shutter.
A long range and a wide field of view covers the greatest area and creates greater opportunity for capturing more images successfully. 
I like to call this the "kill Zone" (to coin an army phrase).
Trigger Response and Recovery Time
Once the subject has entered the "kill zone" the camera needs to initiate before they leave the area. the shorter the time from sensing to triggering the camera the better. Cameras that produce a lot of empty frames most likely have a slow trigger response time.
Each trigger activation takes a certain amount of images – from 1 t0 as many as 9
Added to the trigger response time (and frames per trigger) is the trigger recovery time: the amount of time the camera needs to reset itself in preparation for the next trigger activation.
The more frames per trigger and the faster the recovery time the more images you will get while your subject is in frame.  That's what you want – right?
Image and Video Quality
Mega pixels (dots per inch on the camera sensor) is what determines the quality of the image. 
You don't want, and can't do much with, a hundred photos that aren't recognisable.
The greater the number of megapixels the higher your image quality will be – it's that simple.
For trail cameras you want at least 8 mp for daylight shots and a minimum of 10 mp for night shots (combined with a decent infra red flash of course.
Price wise you can see from the above that higher resolution cameras do not necessarily cost more – that's technology for you where newer and better is often cheaper.
Power Supply (and life)
Most of the trail cameras use AA batteries and offer between 4 or 8 compartments for them.
Obviously using 8 batteries will provide a longer life span and less frequent changing. Bear in mind that the more mages/videos your camera takes and the more bells and whistles it has, the more it will drain your battery power.
It is recommended that you use rechargeable lithium ion batteries wherever possible as these will give you a longer and more reliable usage.
A camera with a battery indicator (like a car's fuel gauge) is a great feature to have so that you can see at a glance how much power is left in the unit.
The option of an external power source is a feature well worth having – especially if you plan to leave your camera out  for an extended period of time.
Memory Cards
Your images and videos are stored on memory cards, measure in Giga Bites (GBs).
The higher the GB the greater the storage.
Most trail cameras offer a maximum of 32GBs which is a lot of storage space and should take thousands of Jpeg images.
High Resolution Screen
A good high resolution screen is important as you want to be able to see what is going on in all lighting conditions.
Menu options are displayed on the screen and you need to be able to see what you're doing.
Some cameras have a playback screen – get one of these, where you can view what has been captured without having to transfer the images to another device.
External Ports and Connections
It's easier and more convenient to be able to transfer images and videos by WiFi (provided there is a signal) or a USB port than it is to take the card out and transfer it to, or view it on, another device. 
Besides a USB port an external power supply port is also handy as mentioned above.
Infra-Red or Flash
Not much to say here except that traditional flash will scare your subject and in many case is not good for their eyes.
A low or no glow infra red flash is the way to go as animals aren't even aware of them.
Weather Proofing and Security
It goes without saying that if you are leaving a camera outdoors you need one that is weather proof. 
Some weather proofing is better than others so get the best you can for your region and it's particular weather patterns – IP 56 or higher is recommended.
You also need a camera that you can secure – not just against dishonest humans but also from naughty, inquisitive and destructive animals.
A well constructed camera housing  made with quality materials is what you are looking for.
The ability to lock the camera with a padlock (or similar) and to secure it with UV protected straps or, better still steel straps/cables, or a metal mount will help against intruders and weather.
Sometimes though damage is unavoidable and some individuals will damage gear simply because they couldn't steal it but hopefully you will have captured their image.
One of the many accessories you can get is a security box to house your camera.  These are fantastic but beware and ensure that you buy one that fits your camera without negatively affecting it's performance. 
A Final Word on Game Trail Cameras ... (and my choice)
I sincerely hope that this post has helped you in deciding on a game trail camera for your needs.
When compiling it I was surprised at the brands that stuck out – with no big brand names appearing at all.  Campark in particular, with 4 models featured, was an eye opener.
So what's your pick?
I must say my preference lies with the 30MP Alphacam trail camera – it sounds and looks like a fantastic trail camera and the reviews, although limited in number, are overwhelmingly positive.
So tell me (in the comments below) what your choice is and what you think of mine.
I'd love to hear from you and discuss the pros and cons of the different models.
Share this post and site on social media