Following on my recent posts of tips for taking photos of wildlife and wild birds I thought it might be an idea to expand on the subject and provide some tips for cold weather photography.
Cold weather photography presents it's own unique challenges and who better to write a post on it than Tracey Lund, a personal friend and accomplished photographer?
Tracey's very impressive pedigree can be found at the bottom of this post.
Cold Weather Photography Tips
Tracey Lund CrGP ASINWP ANPS – Guest Post
I travel all over the world to photograph wildlife but some of my favourite wildlife encounters have been in very cold climates.
It doesn't matter what kind of camera equipment you're using, you really need to plan ahead, know your equipment and the environment you will be going into.
The main thing is to take care of yourself.
Severe Cold climates can cause hypothermia and frostbite, both of which I have seen first-hand.
No photograph is worth putting yourself in danger for.
If you are planning on going out alone, it is always best to let someone know where you're going and when to expect you back.
Appropriate Clothing for Cold Weather Photography
Wear breathable base layers that wicks moisture
Dress in layers so that you can remove and add as the temperature changes.
Outer layers should have a zipper which will allow you to moderate the temperature
Keep yourself dry and warm. Have a good waterproof/windproof outer layer to keep water out and protect you from the cold wind
Wear a hat with good insulating qualities which is appropriate for the climate
A base layer for your feet is very important. I use silk sock liners but Merino wool works well too.
Big chunky gloves won't allow you to operate the dials on your camera. I use a thin glove liner and then have a fold-back mitten style glove over top. It gives you the ability to keep just your fingers exposed. My gloves of choice are the Heat 3 Smart Glove.
On the bottom half, wear a good pair of water/wind proof trousers over the base layer.  I often wear lined trousers for added warmth. These should not be made of cotton (jeans are most certainly a no-no).
It is worth investing in a decent set of boots. Ideally, they need to be waterproof but also make sure the boots have enough insulation to keep your feet warm while you are standing around shooting. Foot warmers are also very helpful in keeping your toes toasty.
At all times, try and remain dry
I always take hand warmers, toe warmers and back warmers if I'm going to be out in the cold for a while.
I always have an emergency single use hypothermia blanket in my camera bag too, they fold up small and take up no room and believe me, they do come in useful.
Don't wear cotton.  Once cotton gets wet it stays wet.  Okay you may not get it wet from the snow or external influence but if you sweat in cotton while hiking into position once you get there the sweat will turn cold and you will remain wet.
Use eye protection
Tip: In extreme cold conditions, wear a tube scarf or something that covers your nose and mouth.
When you are taking pictures, you are breathing warm air onto the back of your camera which soon freezes again. If you have bare skin, this could easily freeze to your camera (seems an odd thing to say but believe me, my nose froze to the back of my camera in Japan…. very painful!
Taking the Camera Out Into the Cold
Keep your batteries as warm as possible. They hate the cold and this causes them to discharge faster and you can guarantee that the battery will run out just before you about take that award-winning shot. I always put them in an inside pocket so they keep warm with my body heat, just keep them somewhere that is easy to get to so you don't waste time.
Try and keep your equipment protected. It is going to be exposed to the same cold air that is freezing your feet. I use an Op/Tech Rain Sleeve which provides great protection from any unwanted moisture
When shooting in cold weather, or extreme conditions such as snow and rain, do not change your lenses outdoors. You do not want to get moisture or condensation inside the camera body. It's always handy to have 2 bodies with different lenses for all possibilities.
Keep your CF (CompactFlash) and SD (Secure Digital) cards stored where you can find them easily. I carry mine in a weatherproof case. The last thing you want to do is lose or drop your valuable photos in the snow.
Always have a micro-fiber cleaning cloth in your camera bag or pocket to quickly wipe up any moisture off your lens
Most importantly, Keep your hands and fingers warm. You need to be able to control your camera. I always have hand warmers in my pockets and in my gloves. Anything to help keep them toasty.
Always bring backup equipment. Camera gear can often behave in weird ways when exposed to extreme cold.
Tip: If you are using a tripod, depending on the type of tripod you have, it can be a great conductor of cold and you will really notice it on a cold day out in the field. If you are carrying it around, some of that cold is going to be transferred to your hands. A great way to alleviate this is to wrap the upper portion of each tripod leg with foam pipe insulation. This also doubles up as padding for when
you carry over the shoulder.  You can buy this from any hardware store and cut to fit just right.
Attach it to the tripod legs using duct tape or cable ties.  Your hands will thank you!
Taking the Camera Back Inside
Whilst still outside:
Take the memory card out of your camera
Wrap the cold camera and lens into an airtight plastic bag. That way the moisture will form on the outside of the bag instead of the inside and outside of the camera
Once back inside:
Keep the camera and lenses in the plastic bag for about two hours as that way they will warm up gradually.
Leave all your other gear that was in your camera bag as is, at least until it has warmed up to room temperature.
Tips For Taking Photos in Snow
Wear eye protection. Snow can be very bright and long exposure to it can result in snow blindness. Think of snow blindness as sunburn on your corneas.  These are your eyes we are talking about here so be sure to wear sunglasses that block 100% of Ultra Violet (UV) radiation.
Any exposed skin will be at risk to sunburn.  Apply a good quality sunblock and remember to reapply it every couple of hours.
Always have your lens hood attached before you head outside, this will avoid lens flare, as the snow is highly reflective.
I find it best to shoot in raw format. Getting the correct exposure and colour temperature when your scene is overwhelmed by white snow can be tricky. Using raw allows you to safely adjust your settings without being limited, unlike with a JPEG.
You need to think about your exposure. Snow can be one of the trickiest subjects to expose properly. The best thing to do is to expose for the brightest part of the scene and ensure that your highlights are not blown out on the histogram. Keep What's White, White and no "Blinkies."
If it's snowing whilst you're outside photographing, you may find the snowfall distracting. Set your camera up on a tripod and use a slow shutter speed to erase the falling snowflakes from your image. Or you can use a fast shutter speed to stop the action, highlighting the snowfall in your image.
Keep checking your settings/images regularly, the light can change quite quickly which will require you to change your settings often.
A Final Word From Tracey on Taking Photos in Cold Weather
Winter is a fantastic time for photography, being properly prepared can make it more enjoyable.
As always with photography, practice makes perfect, so don't hesitate to get out there and make the most of a cold-weather day.
Happy cold weather shooting everyone!
Tracey
So there you have it – straight from one of the UK's top wild life photographers.
I'd like to take this opportunity for thanking Tracey most sincerely for giving up her valuable time to share her tips on taking photos of animals in cold and snow conditions – something I have yet to do.
Be sure to visit her website at Tracey Lund Photography.
Tracey Lund CrGP ASINWP ANPS 
Winner of the Nature & Wildlife Photography category with The Guild of Photographers in 2014,
Winner the Bird Photography category with The Guild of Photographers in 2015,
Runner-up in the Nature & Wildlife Photography category with the Guild of Photographers in 2016,
Runner-up in the Nature Category in 2017 with the SINWP.
Achieved Craftsman Level with The Guild of Photographers in 2018
And numerous other awards which can all be found on her website at http://www.traceylundphotography.co.uk/
And you can see more of her work and achievements at The Guild of Photographers.
All the photos on this page remain the copyright of Tracey Lund and cannot be reproduced in any form without her express permission in writing.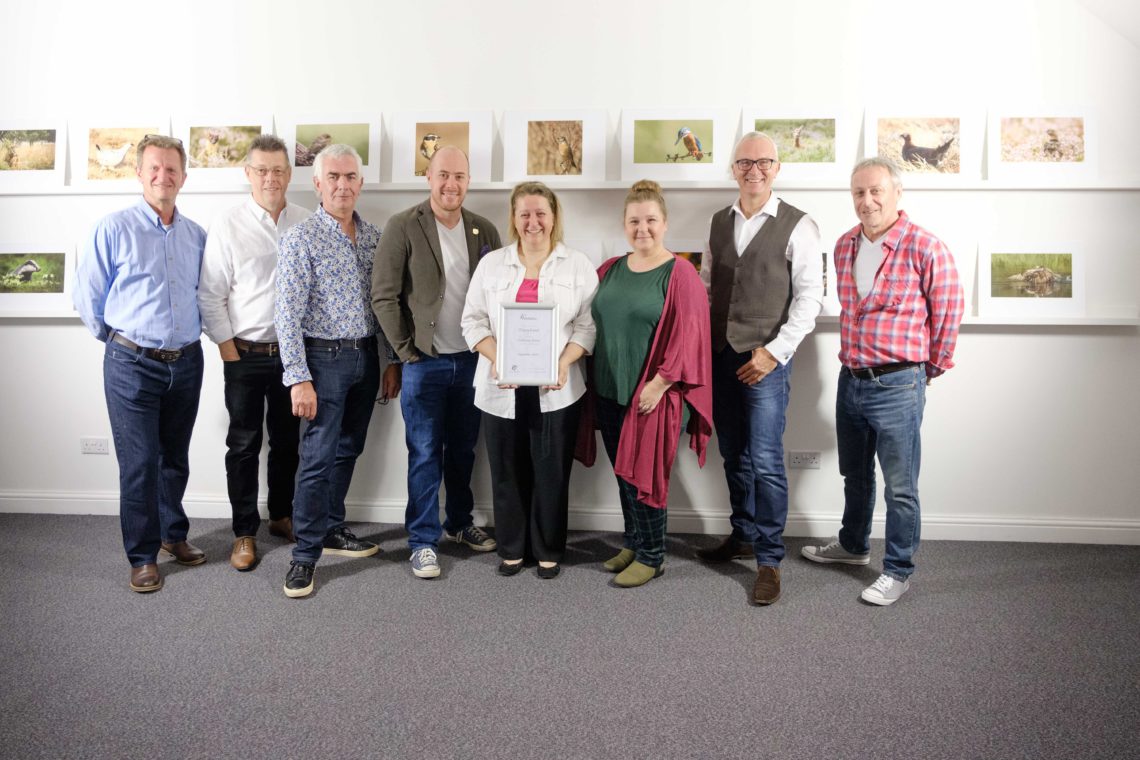 Share this post and site on social media