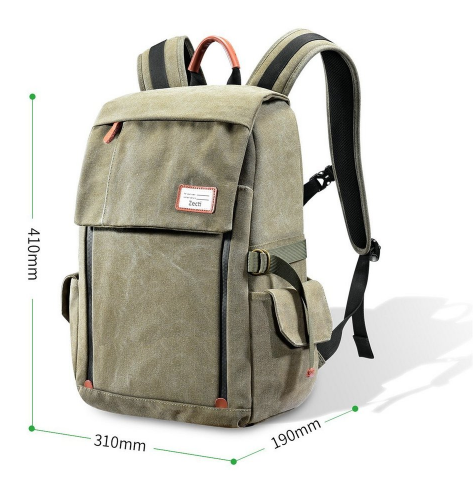 The primary function of a camera bag or bag/backpack combination is to securely and safely stow and transport your expensive camera gear.
Selecting a backpack can be pretty daunting because of the wide range of options and the huge variance in prices. Expensive is often deemed to be superior and sometimes the brand name and solid reputation is assurance enough that the bag is right for you.
But what if you have specific needs or have different tastes?
Will that Lowepro bag your friend recommends be right for you or is the one that's on "special" a better deal?
The good news is there is a bag out there for you – one that will protect all your gear and fit your budget plus provide you with years of service.
And it may even be a good looker.
Here's a selection of what I consider to be the top options available to you – options to suit all tastes and budgets.


The Clifton by ONA
Camera Bag Backpack

Koolertron Ladies Camera Bag Backpack

$180.00 – $200.00 range
$179.00 at Amazon
$65.00 – $80.00 range
$64.99 at Amazon
$240.00 range – $260.00
$235.93 at Amazon
$480.00 – $500.00 range
$499.00 at Amazon
$40.00 – $55.00 range
$49.99 at Amazon
Big bag, that will take a lot of gear – with a variety of options and combinations.
Will comfortably accommodate a DJI Maverick drone.
Robust, well manufactured and comfortable with slip lock attachments and accessories.
4 Way access.
Suitable as "carry on" baggage on larger planes but may be a problem on smaller aircraft.
Great for taking all your gear on long trips.
Medium sized bag with ample extra pockets and compartments.
Will accommodate a couple of camera bodies and 4 or 5 lenses.
Very robust and strong with reinforced base.
Does not scream "Camera Bag!"
Dual compartments with removable inserts.
Can be converted to multi-purpose travel/leisure bag.
Back opening for greater security.
Ergonomically designed for greater comfort.
Suitable as carry on baggage on airlines.
Good looking in a masculine way.
Fantastic all round bag – highly recommended.
Small to medium sized bag.
Ideal for students or bloggers who have 1 camera body, a couple of lenses, a flash, a laptop and notebooks.
Perfect for trampers and hikers on day trips.
Extremely well built and will take some serious punishment.
Very high comfort level – even with prolonged use.
Will suit both men and women and is fully adjustable to fit all body shapes and sizes
Suitable for carry on luggage.
Manufactured by Manfrotto and is a great looking bag in the tradition of National Geographic's upmarket branding.
Upmarket camera bag that make a powerful statement that you have arrived.
Made from hand crafted full grain Italian leather.
Available in Black, Antique Cognac (pictured here), Camouflage, Smoke and Dark Truffle
Comes with a top and bottom insert – both of which can be removed if required.
Will accommodate 1 DSLR body and 3 or 4 lenses.
Perfect for the hobbyist photographer.
A great bag if you want your camera and lenses stored in quality material.
Great bag for a day's outing.
Extremely stylish – in true Italian tradition.
Will make a great gift for that "someone special" in your life.
5 Colours to choose from – pink, blue, purple, black and green.
Top and bottom compartment with the bottom one apparently useful for sneaking things into shows or ball games!  The things people  will do … 🙂
Very pretty an functional bag that does not look like a camera bag at all.
Extremely comfortable with the padded straps and back padding allowing for prolonged use without any resulting backache.
Very popular amongst the ladies for its feminine and soft look while retaining great functionality.
Need a lot of gear to fill it up.
Not ideal for small bodied humans.
Not suitable for quick access as provided by sling bags.
Big and heavy for hiking and day trips.
Will not suit a DSLR plus DJI Maverick (or similar) together – choose either/or, or a bigger bag,  such as the Lowpro Protactic 450AW backpack featured here.
Secure back entrance does not allow for quick access.
Not the biggest bag – it is designed for functionality and daily use, particularly for students and day trippers.
It's not cheap but then top quality products never are.
Too small for more than the minimum camera gear.
A small bag that will not suit the professional, or serious enthusiast, lady photographer with a lot of equipment to lug around.
Limited ability to include a laptop up to a maximum 13 inches.
Superb!
Beautifully hand crafted out of luxury leather.
Excellent and surprisingly robust for something so dainty looking.
13.7 x 10.63 x 19.21 inches
5.72 lbs (2.6 kilos)
12.7 x 7.5 x 16.1 inches
3.75 lbs (1.7 kilos)
12.2 x 7.1 x 17.3 inches
2.9 lbs (1.31 kilos)
16.9 x 9.06 x 12.9 inches
3.79 lbs (1.72 kilos)
11.8 x 6.7 x 16.5 inches
2.1 lbs (0.95 kilos)
13 inch – but a tight squeeze with some ingenuity required.  Fine for a tablet.
Yes with removable external straps
Zecti Waterproof Camera Backpack – Best Camera Backpack
And the vote of thousands of other photographers who have bought this bag.
Here's why.
Dimensions: 12.7 x 7.5 x 16.1 inches
Weight: 3.75 lbs
Amazon Price: Click here for  the current price.
The simple, yet elegant, lines of the Zecti professional waterproof camera bag has an enormous appeal to those who want something strong, endurable and with rugged good looks.
Made out of top quality canvas, treated for 100% waterproofing, and put together with reinforced stitching this is a camera backpack that is made to last.
All while not letting on that it is packed with expensive and sensitive camera equipment.
Many are the reviews that claim the bag retains it's fresh look and firm support, after months of harsh treatment dished out during extensive travelling and on African safaris.
Now you may not be fortunate enough to be going on an African photo safari but knowing this bag can hold up to a good workout is reassuring.
"So you think you're something special, you got the looks but  … that don't impress me much"  
– Shania Twain
Good looking, strong long- lasting (and all that) but will it hold all your gear safely?
With capacity for 2 DSLR bodies, 4 or 5 lenses and a couple of off camera flashes the main body of this bag will be perfect for even the keenest hobbyist photographer.
The top pouch (housed in the main compartment) is perfect for storing that extra battery, memory cards, cleaning kit and lens cloth while keeping it all from floating around inside the bag!
The extra side pockets, 13″ laptop compartment, customisable inserts, numerous internal and external compartments all add up to make it the perfect bag for keeping your equipment snug and secure.
Wide webbing straps, a waist belt and ergonomically designed reinforcement go to making this one of the most comfortable and robust bags I have come across. Makes carrying it all day a real breeze.
With access through the back you get the added security of knowing that your gear is not easily accessible to those with light fingers.  This is great for the travelling photographer.
I can't go on too much about the looks of this camera backpack.  I think even Shania would be impressed!
THE PRICE – just look at that price!  "Buying cheap" can often be a big mistake when it comes to protecting expensive equipment. With the Zecti you can rest assured that your gear is as safe as it will ever be in any bag designed for regular everyday use.
Highly Recommended
The National Geographic Model A5270 Medium Camera Rucksack
Bloggers and Students Special
Dimensions: 12.2 x 7.1 x 17.3 inches
Weight: 2.9 lbs
Amazon Price: Click here for  the current price.
In a competition where there is such a high quality of entrants one cannot but help wonder if the right contestant "won" since the final decision  is subjective and based on the "judges discretion". 
But unlike other competitions "the judges decision is not final" and I am happy to have you disagree and go for my second, third or even 4th recommendation.  They're all great bags with a lot going for them.
The Nat Geo A5270 is also made out of top quality canvas, waterproofed and beautifully made. 
The A5270 is made by Manfrotto and that says a lot more than I possibly can.
The reviews I came across (primarily on Amazon) are all positive and mainly from students and bloggers who carry notepads (of the paper variety) laptops and a lesser amount of camera gear.  The Nat Geo A5270 sounds ideal for that type of user, but may be a bit limiting for those with a bit more gear and the need for slightly wider/deeper pockets and compartments for camera related equipment as opposed to paper sleeves.
"A good looker with a body to match"
– My Photo Skills
This backpack is just as good looking and strong as the Zecti but with less camera compartment space (despite the similar dimensions) but will however accommodate a 15.3″ laptop.
Capacity for 1 DSLR camera body, 2 or 3 lenses and an off-camera flash.
Plenty of pouches and sleeves for notebooks and normal, but slim, books!
The side pockets are numerous but rather cramped.
The rear of the backpack is made from a reinforced breathable material that adds to the comfort and strength.
The straps are wide and padded for added comfort for all day carrying.
There are two inter-linked storage compartments that are accessed from the front and therefore not as secure as back accessed backpacks. 
Its a Nat Geo bag and lives up to their high standards when it comes to good looks and robust quality.  No surprises there.
The Nat Geo name coupled with the "Designed and made by Manfrotto" label may falsely puch the price up but if that is not a concern then this is another …
Highly Recommended
The LowePro Pro Tactic 450AW Camera Backpack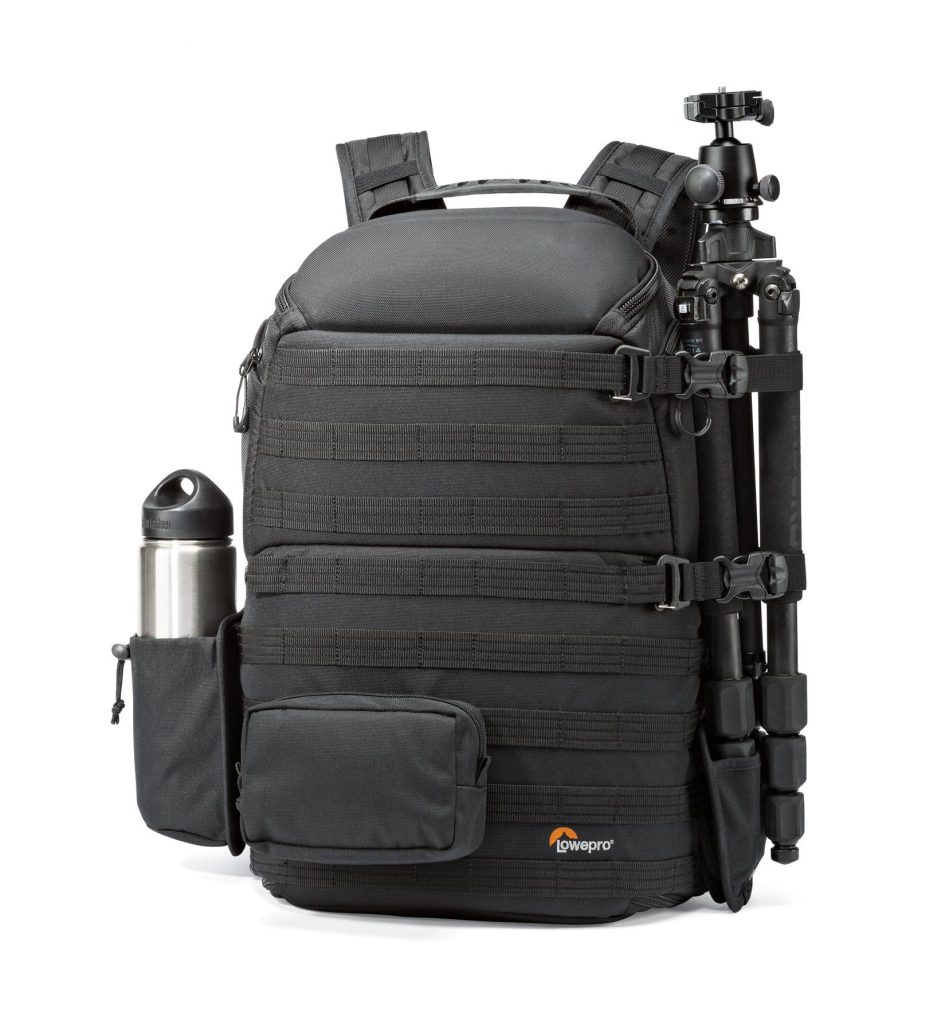 For the Big Boys and Girls
with lots of toys!
Dimensions: 13.7 x 10.63 x 19.2 inches
Weight: 5.2 lbs
Amazon Price: Click here for  the current price.
This is a great bag – but I firmly believe it belongs in a category all on its own. 
This bag is so large you need to have a lot of camera equipment and you have to be above average size to carry it.  Most certainly not for the faint hearted or dainty.
The Lowepro Pro Tactic AW450 is made out of nylon and is strongly reinforced throughout for added strength and protection.
Accommodation is truly amazing with a huge capacity (see image below) and plenty of external customisation options – provided by the external webbing and additional modular slip lock attachments, 5 of which are supplied with options to purchase more.
"Size does count"
– Anonymous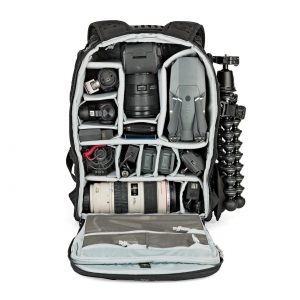 In true Lowepro tradition this is a solid backpack with nothing but the photographer in mind.
Capacity for 2 DSLR Full Frame bodies, in two seperate compartments, with battery grips attached.
Room for several lenses and off camera flashes in a variety of combinations.
Fully adjustable and customisable sections!
Customisable external options including a tripod holder with slip lock attachments.
Strong external casing that is designed for a lifetime of use.
The bag is big and adjustable but not suited to small bodied individuals
There are four access points; one on each side, one from the top and a rear access.. 
It's a Lowepro and carries the usual level of care and attention to detail.
If this sounds like what you are after then this too is …
Highly Recommended 
when looks really do count …
The Clifton by ONA Camera Bag Backpack
For the Photographer who has everything
and loves leather!
Dimensions: 16.9 x 9.06 x 12.9 inches
Weight: 3.8 lbs
Amazon Price: Click here for  the current price.
They say class cannot be bought – the Clifton by ONA prove that wrong!
The Clifton is only one of ONA's range of classic bags – the others too are well worth considering.
The ONA range being small bags are FANTASTIC bags for a mirrorless owner!
The Clifton by ONA (even the title sounds upmarket) is Italian hand crafted and made from the finest leather.  Would we expect anything different from Italy?
The two internal inserts can be removed in totality, or singularly, allowing the bag to be customised to your specific.  
The Clifton is an expensive luxurious looking bag in which to store your equally luxurious and expensive photography gear on those day trips.
Available in 5 different colours with names as exotic and upmarket as Antique Cognac and Dark Truffle
"Sometimes you just have to smile, walk away and let people wonder."
– Bossfiles
What does one say about a luxurious camera bag that says it all without saying a thing?
Let's stick to the basics.
Ideal for mirrorless but The Clifton will also comfortably take one DSLR (crop sensor) and 2 – 3 lenses in the top domed section.
The bottom section will accommodate a mirrorless with lens attached or a spare lens or two or a an off-camera flash and basic cleaning kit.  Plenty of options there
Adjustable and customisable sections!
There is no external tripod holder.
Sheer comfort and luxury.
It is not a big bag.
If you're into leather and luxury then this backpack is for you.
Recommended
for the lady photographer
Koolertron Ladies Camera Bag Backpack
For the Lady Photographer 
strong, pretty and practical!
Dimensions: 11.8 x 6.7 x 16.5 inches
Weight: 2.1 lbs
Amazon Price: Click here for  the current price.
A camera backpack for the ladies that is both pretty and practical. A bit of colour and a vibrant print lifts a drab black to an elegant looking accessory.
And it's available in 5 different colours – pink, blue, purple, black and green.
The Koolertron ladies camera backpack is a well designed bag proving very popular with the ladies – and rightly so.
Made up of a top and bottom section with numerous pockets the bag designers clearly know what the lady photographers like. 
The bottom section is for a camera and a couple of lenses and is well padded to provide maximum protection.  The top section is smaller and will take a 13″ laptop (at a squeeze) and small photography accessories such as cleaning kits, spare batteries etc.
The bag comes with large external straps and loops for attaching tripods a water bottle and the like. The wide webbing makes for even distribution of weight and provides comfort for all day carrying.
The backpack is amazingly strong and will take 30 pounds of well distributed weight without causing any back pain, even after a full day's work.
"An appreciation for high fashion does not preclude possession of common sense."
-Tasha Alexander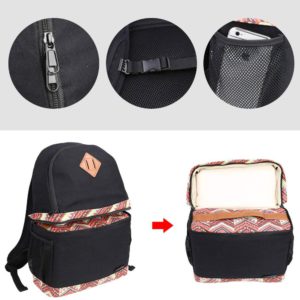 So let's summarise this for the ladies.
The Koolertron is elegant, stylish, pretty and comfortable.
Comes in 5 colours – pink, blue, purple, black and green
Has ample room for 1 camera body and 2 or 3 additional lenses in the bottom, detachable section.  
The camera section has 3 removable dividers for customising the configuration.
The bag is very well padded to provide maximum protection for your equipment
The upper section is ideal for those photographic extras – batteries, cables, cleaning kit etc.
A secure pouch between the backpack and your body for personal documents such as passports etc.
External pockets provide storage for smaller items such as mobile phones.
A water bottle can be attached to external loops.
Complies with dimensions for carry-on baggage for all airlines.
Can take an external tripod
All in all a really great bag!
Highly Recommended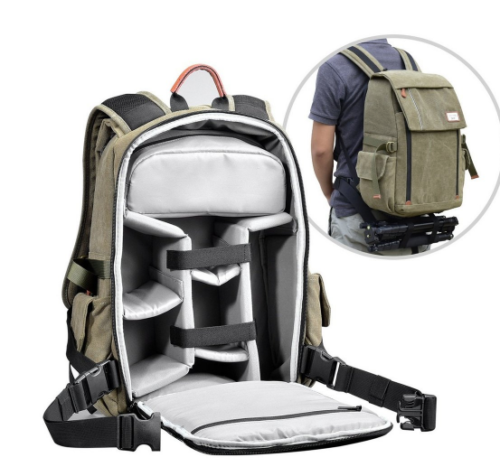 Whether you're buying your first or your 10th bag its a good idea to take stock of you gear and prioritise your needs.
Chances are this won't be your first bag and will be considering buying more camera gear in the future. 
It's never easy to determine future purchases and trying to facilitate the unknown is pretty difficult.
Unless you are going to make a purchase of a new body or lens in the immediate future it's probably best to tailor your bag to your current equipment. I explain the reasoning behind this below.
To do that …
Decide What You Will Use Your Bag For?
There are camera bags and backpacks for every type of photographer and some that try to cater for all in one.
Are you going to be:
Lots of hiking or tramping?
Travelling by air and need a bag that complies with carry-on size restrictions?
Doing mostly short day trips/outings?
Exposing your camera to extreme weather conditions (cold or wet)?
Carting a lot of gear around?
Using a drone type camera?
Needing a bag to store your equipment?
Need to carry a tripod?
Knowing how you will use your bag will help you in your final choice in terms of size, shape and function.
Do you favour a shoulder bag, sling bag or rucksack/backpack?
Are you concerned about security while you are carrying your equipment?
 Do you favour a front or rear access bag?
Do you want a particular brand?
Has a friend recommended a particular bag – it's great when you have first hand reviews?
Should you buy that cheap one that you saw advertised?
You may even decide that you need a couple of bags for different uses.
How Much Gear Will You Carry in Your Bag?
The most important thing to consider is how much equipment you will carry at any one time. This will determine the size needs of your bag and narrow your choice down.
Deciding whether to buy something to accommodate future gear is difficult as your needs could well change between now and then. In addition to this any vacant sections in your bag have the potential to cause the lenses and bodies to shift around and ideally you don't want that.
If you do have gaps fill them with packing – bubble wrap is light and practical.
Bags come with all sorts of different configurations.
Refer to your priority list often to ensure you don't miss anything – for example if you need to carry a tripod make sure the bag will facilitate this.
Get a bag with removable inserts that can be customised.
Check that it is waterproof or weatherproof based on your priorities. Most bags come with a seperate plastic rain cover but is that enough for your needs?
Build quality – your new camera bag has to be well made if you want it to last and to protect your expensive camera equipment.  That means not only the material it is made out of but also the stitching, the buckles and straps.  Your bag is only as strong as the weakest link.
Build quality is more than just strength – it includes comfort when wearing a backpack for any length of time.  The last thing you need is backache.
Get a bag with a solid warranty and buy from a reputable dealer whether that be online or a brick and mortar store.
Deciding Between Function and Good Looks.
There is no need to buy a drab camera bag.
Designers and manufacturers have come up with a number of variants in bags and there is something for all tastes.  So shop around.
In the end if you cannot find what you need in the colour you want i suggest you take whatever you can that will protect your gear.
Keeping Humidity Out of Your Bag.
Having a waterproof bag is all well and good. If your bag can keep water out then it can equally keep moisture in and moisture and camera gear don't mix too well – be sure to keep silica gel desiccant moisture packets in your camera bag at all times.
Silica gel moisture packets do not last forever and need to be changed regularly.
An even better alternative is to store your camera gear in a dry cabinet when not in use.  Dry cabinets are designed specifically to remove moisture from the air and are a very good investment. 
Failure to keep your equipment moisture free could result in very expensive repairs or the need to replace it. Preventative maintenance is a far less expensive option and will ensure that your camera and lenses perform at their peak.
What We Check and How You Can Too
One of the difficulties of reviewing camera backpacks when there is such a wide variety of really good bags is deciding which ones to review in the first place!
It's impossible for me to purchase every single bag out there so the next best thing is to gather information from those who have already bought the bags under review – IE real users. 
So in addition to what is covered in the "Buying Advice" tab I search further afield and keep it real.
Reviews are a great way to do this – provided they are genuine reviews, that means good and bad. 
Some websites only have good to great reviews and, while they may well be genuine, I am always just a bit wary of them – surely someone has placed a bad review at some point?
From my own experience I have found people are more likely to write a bad review than a good one.  Its really annoying when you spend good money to land up with a rotten product, this will often create enough emotion for the customer to take the trouble to actually write a negative review.
When the product meets, or exceeds. your expectations it is kinda the norm and people accept the product without reviewing it.
If a bag has hundreds of positive reviews it can be assumed to be a really good product.
Product reviews can be found in many places, for example:
"Google it" has become a catch phrase for a very good reason. 
The Internet is a mountain of information and Dr. Google is all knowing. 
The problem with "googling it" is that the results you obtain from Google are the results Google deems to be the most accurate.  
Google's ranking system is based on complex algorithms that marketers frantically try to understand in an effort to get their reviews on page 1 of the search engine results.
No-one goes much beyond page 2 of the results and that gem you are looking for could be buried much deeper – how would you possibly know?
Be aware that the first few entries on each page are paid adverts (denoted with the word "

ad

" or "

sponsored

" directly following the description) and are not organic, but paid for, positions.
Forums are a great source of finding genuine reviews. Join any photographic forum and you will see hundreds of topics on all things photographic including camera bags and backpacks.  These forums have members who openly discuss their buying experience and share their advice. 
Real people, real photographers, real users, real reviews!
How do you find forums?  
You got it – Google it!
Brick and mortar store salesperson. If you are lucky enough to have a photographic store that you can visit and get advice – do so. You will soon find out if the salesperson helping you is knowledgeable and helpful and genuinely has your interests at heart or just trying to force a sale on you.
Please, please, please support your local outfit if they are helpful.  Don't take their advice and then buy online to save a few dollars.  Rather ask them for a discount and remember that the salesperson and the owner has a family to feed to.  Its not fair that you take their advice and spend the money elsewhere.  Put yourself in their shoes.
Contact the manufacturer and ask specific questions. You'll be surprised how helpful they are.  You may be asking about one particular model and find they have a different one that will suit you better.
Amazon.  This is probably my best "go to" source for genuine reviews. I place a little bit more emphasis on Verified Buyer's reviews.  The great thing about Amazon is you can see exactly how many actual customers have left reviews and that includes any bad ones.  Gotta love amazon.
Friends and local camera clubs. People just like you are always willing to lend an honest hand and steer you in the right direction. Ask them about their own bags and why they bought that one, are they happy, would they recommend it and what don't they like about it?
Where To Buy Your Camera Backpack
There are a number of places you can buy camera bags and backpacks from these days.
Online buying is huge and much more dependable than when the Internet first started. Its also much easier to do research and feel confident about buying from certain vendors who are well aware of the power of social media – both in a positive and negative way. See Amazon and eBay below but most brick and mortar outlets have online sales too.
Local – support local wherever possible. I am an old fella at age 63 and I think the demise of small mom and pop businesses is pretty sad.  I understand why this is happening but that doesn't mean I have to like it.
Amazon. Probably the biggest online retailer that has hundreds of thousands of sale a day and a solid reputation with probably the best online warranty out there.  Service and delivery are faultless (or pretty much so). Probably the least expensive online outlet due to volumes. Buy with confidence from Amazon. 
eBay.  Another online outlet where you can do some serious due diligence on the product and the seller. Good prices too if you know your market.
Charity shops.  These often have some great bargains from deceased estates etc.  The problem is the stock changes daily and they require regular visits to find that gem.  But hey when you are driving past stop and take a look – you just never know. But certainly not the place to buy if you are in a hurry.
Friends and other photo enthusiasts. Everyone is always upgrading or changing brands, switching to mirrorless or has some other reason to sell their gear. There are a lot of bargains out there when cash is needed quickly.
At the end of the day we really are spoilt for choice and it is up to each of us to make an informed decision.
I hope this helps in some way to making your selection a little bit easier.
May you do many miles with your chosen backpack.